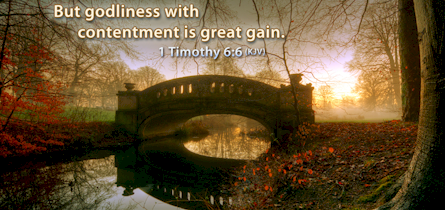 Podcast: Play in new window | Download
Text: 1 Timothy 6:6-10 (Reading by
Don Treadway
)
Godliness with Contentment is Great Gain
Godliness is always right, but it is not always easy to do the right thing.  Sometimes peer pressure can be difficult to overcome.  Other times, it may seem easier to do what's right if one has certain things, or if one does not have other things.  However, by doing what is right with what one has, one may be blessed and gain contentment.
Body
I. We must profess godliness.
A. Godliness means living a life that is respectful to God, and to oneself.
B. Earlier, Paul told Timothy that godliness is profitable for all things (1 Timothy 4:7-8).
C. God has given us all things that pertain to life and godliness (2 Peter 1:3).
D. Godliness is in accordance with truth (Titus 1:1).
E. Christians must live in "holy conduct and godliness" (2 Peter 3:11; 1 Peter 1:15-16).
F. We must add godliness to our faith (2 Peter 1:5-7).
G. We can expect persecution when living godly lives (2 Timothy 3:12).
H. We must withdraw from those that suppose godliness is a means of gain, yet pursue true godliness (1 Timothy 6:5,11).
II. We must be content.
A. Paul has learned to be content in every condition (Philippians 4:11-12; 1 Corinthians 4:11).
B. We must be content with such things as we have (Hebrews 13:5).
C. We need God's words more than necessary food (Job 23:12; Matthew 6:11).
D. God gives us all we need (Philippians 4:19; Psalm 23:1; Proverbs 30:7-9).
III. We have much to gain.
A. Godliness is profitable for this life, and the life that is to come (1 Timothy 4:8).
B. If a man gains the world and loses his soul, he loses everything; if he loses the world and gains his soul, he has gained everything (Matthew 16:26; Luke 12:20-21).
Conclusion
As Christians, we are to live Christ Jesus with Godliness.  In so doing, we must be content with who we are and what we have.  Being content and living godly lives in Christ, we have much to gain!
---