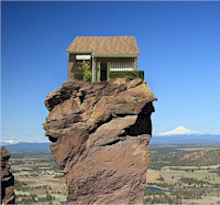 Podcast: Play in new window | Download
The Faithful House is Built Upon the Rock.
There are many types of houses, and many people build them. However, each house must have a foundation.
For the faithful house, the perfect foundation is Christ (1 Corinthians 3:11), and the perfect builder is God (Text: Hebrews 3:1-6).
Christ was faithful to God, who appointed Him (Hebrews 3:1-2).
Christ had a purpose, and fulfilled it. God put Him in the right place at the right time for the right purpose; He will do the same with us!
Christ is counted worthy of more glory, as He who built the house has more glory than the house itself (Hebrews 3:3).
Jesus said that a servant is not greater than his master, nor one who is sent greater than one that sent him (John 13:16).
The apostle Paul never gave credit to himself as He served the Lord; rather, all glory goes to God!
As every house is built by someone, God is the builder of all things (Hebrews 3:4).
God created you and me, He built the heavens and the earth and everything in it, and He even built the church upon Christ.
As Moses was faithful in His house as a servant, Christ was faithful as a Son over His own house (Hebrews 3:5-6)!
Christ was appointed heir of all things (Hebrews 1:2), and we can inherit the things of God through Christ (Galatians 3:26-4:7).
We are of the house of God if we "hold fast the confidence and the rejoicing of the hope firm to the end (Hebrews 3:6)."
We must have faith to come to God (Hebrews 11:6), and our faith must work (James 2:17). By becoming obedient to the gospel of Christ, we become members of His house, the church!
By living faithful to Him, we can receive an eternal home in Heaven (Revelation 2:10).
Are you a faithful member of the house of God?
If not, you can become one right now.