Thanks to
Johnny O. Trail
from the
Sycamore Chapel Church of Christ
for the content of this post.
---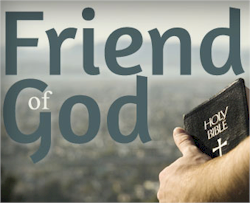 Scripture calls Abraham a "friend of God."
One such characterization is made of Abraham in James 2:21-24. The verses say, "Was not Abraham our father justified by works when he offered up his son Isaac on the altar? You see that faith was active along with his works, and faith was completed by his works; and the Scripture was fulfilled that says, "Abraham believed God, and it was counted to him as righteousness" – and he was called a friend of God. You see that a person is justified by works and not by faith alone." This description of Abraham is more significant than we sometimes think. The implication is that God was proud to call Abraham His friend.
Would God be proud to call you his friend?
A friend is "somebody who trusts and is fond of another." "Somebody who thinks well of or is on good terms with somebody else." Does God think well of you? Are you on good terms with Him? These thoughts are worthy of much consideration.
James' words in James 2:21-24 could very well be an allusion to 2 Chronicles 20:7 which says, "Did you not, our God, drive out the inhabitants of this land before your people Israel, and give it forever to the descendants of Abraham your friend?" This passage promises to give the land to the descendants of Abraham. Again, Abraham is called God's friend, but why?
Abraham was God's friend because he was obedient to God's commands.
Genesis 22:1-2 says, "After these things God tested Abraham and said to him, "Abraham!" And he said, "Here I am." He said, "Take your son, your only son Isaac, whom you love, and go to the land of Moriah, and offer him there as a burnt offering on one of the mountains of which I shall tell you." One would imagine that there was much trepidation that went along with this commandment. After all, this was Abraham's only son according to the covenant promise of God. Moreover, there was an emotional toil that went along with this commandment from Jehovah. Most parents could not imagine being put in such a situation, but Abraham was.
It is incredible to consider, but Abraham was completely obedient to God's will.
Genesis 22:9-12 "When they came to the place of which God had told him, Abraham built the altar there and laid the wood in order and bound Isaac his son and laid him on the altar, on top of the wood. Then Abraham reached out his hand and took the knife to slaughter his son. But the angel of the LORD called to him from heaven and said, "Abraham, Abraham!" And he said, "Here I am." He said, "Do not lay your hand on the boy or do anything to him, for now I know that you fear God, seeing you have not withheld your son, your only son, from me." God knew that Abraham was faithful, because he followed through with the commandment of God, knowing God was his friend. By the same token, God knows that we are faithful and are His friend when we follow through with all of His commandments – not just the ones we chose to obey.
Scripture teaches that obedience and faith are inseparably linked.
Hebrews 11:8; 17-19 says, "By faith Abraham obeyed when he was called to go out to a place that he was to receive as an inheritance. And he went out, not knowing where he was going…. By faith Abraham, when he was tested, offered up Isaac, and he who had received the promises was in the act of offering up his only son, of whom it was said, "Through Isaac shall your offspring be named." He considered that God was able even to raise him from the dead, from which, figuratively speaking, he did receive him back." Abraham's life was characterized by faithful works of obedience. If one wants God to call him His friend, he must be faithfully obedient to His commandments.
All people should want to be counted among God's friends.
How does one do this?
John 15:14 says, "You are my friends if you do what I command you." Once again, the importance of obeying God's commands is underscored in this passage. The disobedient cannot be saved or counted among God's friends.
Jesus is the Author, Source, Architect, and Originator of our salvation.
Who can be saved?
Only the obedient have the expectation of eternal life. Hebrews 5:8-9 says, "Although he was a son, he learned obedience through what he suffered. And being made perfect, he became the source of eternal salvation to all who obey him." That is, Jesus learned the cost of obedience which was death upon a Roman cross at Calvary.
One must be obedient to the gospel in order to have eternal life.
2 Thessalonians 1:8-9 says, "In flaming fire, inflicting vengeance on those who do not know God and on those who do not obey the gospel of our Lord Jesus. They will suffer the punishment of eternal destruction, away from the presence of the Lord and from the glory of his might." The obedient will be a friend of God and obey the gospel, but what is the gospel?
Simply stated, the gospel is the death, burial, and resurrection of Christ.
1 Corinthians 15:1-4, teaches, "Now I would remind you, brothers, of the gospel I preached to you, which you received, in which you stand, and by which you are being saved, if you hold fast to the word I preached to you – unless you believed in vain. For I delivered to you as of first importance what I also received: that Christ died for our sins in accordance with the Scriptures, that he was buried, that he was raised on the third day in accordance with the Scriptures." How does one obey the gospel?
One obeys the gospel at the point of baptism. Romans 6:1-4 "What shall we say then? Are we to continue in sin that grace may abound? By no means! How can we who died to sin still live in it? Do you not know that all of us who have been baptized into Christ Jesus were baptized into his death? We were buried therefore with him by baptism into death, in order that, just as Christ was raised from the dead by the glory of the Father, we too might walk in newness of life." Notice from these passages that baptism is likened unto a death, burial, and resurrection.
Would you be a friend of the Father?
If you would be His friend, you need to submit in faithful obedience to His will by observing and practicing all of His commands. All other friendships are worthless if God is not able to call us His friend.
---

Johnny O. Trail preaches at the Sycamore Chapel Church of Christ
2699 Old Clarksville Pike
Ashland City, TN 37015

615-746-8624