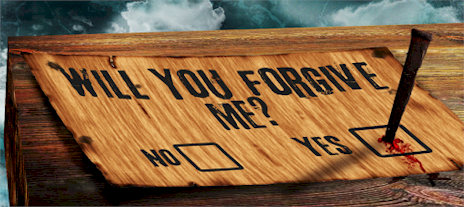 Podcast: Play in new window | Download
Living in the past may make you feel only partially forgiven.
It's a cliché, I know, but it became a cliché because it's true: Don't live in the past. When we do, we might feel like we are only partially forgiven.
Is that you? Are you beating yourself up over something you did years ago? Feeling partially forgiven because you can't forgive yourself?
I think the apostle Paul struggled with his past.
In some of his letters he referred to his abuse of Christians years earlier in his life, before he became a Christian, calling himself the "worst" of sinners and the "least of the apostles" (1 Timothy 1:15; 1 Corinthians 15:9).
It bothered him. I'm guessing that every day of his life he saw in his mind the faces of some of the Christians he'd hurt.
Look forward instead of backward.
But he also recognized that those things no longer defined him.
Listen to what he says here:
Not that I have already attained, or am already perfected; but I press on, that I may lay hold of that for which Christ Jesus has also laid hold of me. Brethren, I do not count myself to have apprehended; but one thing I do, forgetting those things which are behind and reaching forward to those things which are ahead, I press toward the goal for the prize of the upward call of God in Christ Jesus.
(Philippians 3:12-14).
He wasn't a boastful Christian. He knew he wasn't where he wanted to be or even where he ought to be, and that led him to look in the right direction.
Ahead.
He strained forward and kept his eyes focused on the finish line.
Humanly speaking, of course, he couldn't completely forget the past, but he disciplined himself to press on toward that "upward call."
Maybe that's what you need to hear today.
Thank God for fully forgiving you.
If you're living every day with the guilt of the past, it's holding you back. You think more about what you've done to hurt God than what he's done to heal you.
Think about Paul's words today.
Thank God for forgiving you and redeeming you and saving you.
Remember… when God does something, he does it right – and that includes forgiveness.
There's no such thing as a partially forgiven Christian. Jesus paid the full price.