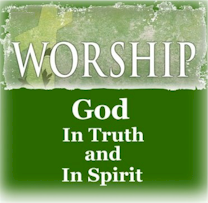 Acceptable Worship in God's Eyes
"God is a Spirit: and they that worship him must worship him in spirit and in truth" (John 4:24).
To suggest that all worship is acceptable and approved by God would be contradictory to the teaching of Jesus. He accused the Pharisees of drawing near to God with their lips, but having their hearts removed from Him. He then charged them with "vain worship," accusing them of teaching for doctrine the commandments of men (Matthew 15:8-9). Obviously, their worship was unaccept­able to God.
There are three essential elements to acceptable worship according to the Lord (John 4:24).
First, acceptable worship must be directed to the right object – GOD. As the object of worship, He alone has the right to dictate what should be done as worship. Worship is not a spectator sport. We are all to be participants, and our worship is to be directed heavenward.
Second, acceptable worship must be in spirit. That is, it must be prompted by the right motives, and done with the right attitude. Our heart must be in it.
Third, our worship must be done in truth. Therefore, it must be authorized and approved by God in His word. We must come to God on His terms, not ours. We can be sincere and still not worship in truth. Should that happen, our worship is unaccept­able to God. We must always seek to discover what God has re­vealed in His book and do it.
All three ingredients are essential for acceptable worship. Though directed at the right object (God), the Pharisees' worship was unacceptable. It lacked both spirit and truth. Worship directed toward the right object and offered in the right spirit is also unacceptable if not governed by the dictates of God's word. It is not a question of what is pleasing to men, but what is pleasing to God?
Is your worship acceptable to God? Is your worship directed toward Him? Are you prompted by the right motives? Are you guided by God's word?