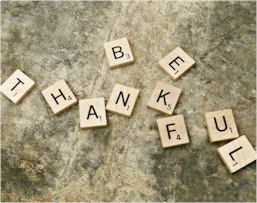 Recognise your blessings and be thankful.
Paul wrote: "In everything give thanks: for this is the will of God in Christ Jesus concerning you" (1 Thessalonians 5:18). Genuine gratitude must be expressed. When we are truly grateful, we cannot help but say so. But, often we don't say "thank you" enough. Be thankful and express it.
We should be thankful to parents for the love, nurture and direction they gave to us as we developed into mature adults. We should be thankful to teachers who patiently taught us the fundamentals of reading, writing, and arithmetic, the building blocks of education. We should be thankful to loving mates who have stood by us through thick and thin offering encouragement and support. We should be thankful to employers for the opportunity to work and provide for our families.
We should give thanks for the "little things" without which we could not survive. Are you thankful for the air you breathe? The sunshine? The rain? The changing of the seasons? Rather than complain about the weather, we should stop to give thanks.
We should be thankful for the people who have blessed and enriched our lives. It may have been a simple smile or an encouraging word, but it made a difference. Did we give thanks?
Most of all, we should be thankful to God who is the giver of all. For "every good gift and every perfect gift is from above" (James 1:17). As Paul also wrote: "O the depth of the riches both of the wisdom and knowledge of God! How unsearchable are his judgments, and his ways past finding out! For who hath known the mind of God? Of who hath been his counselor? Or who hath first given to him, and it shall be recompensed unto him again? For of him, and through him, and to him, are all things: to whom be glory forever" (Romans 11:33-36 KJV).
We are ever in His debt. We should give thanks daily for His blessings! This nation may pause once a year to express thanksgiving, but those who truly understand will not let a day pass without giving thanks to God.
Are you thankful? Would you like to know more about His blessings?
---