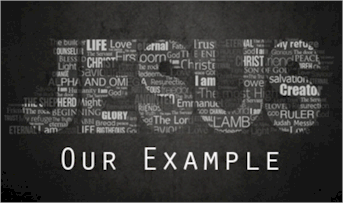 Our Best Example Is Jesus
We may learn many things by watching others and learning from their example.
Kids watch their parents or older kids, and copy their behavior.
Students may follow examples in textbooks to learn how to solve problems.
Employees watch their boss to learn how to do certain jobs.
Athletes learn how to play a sport by copying the coach.
The list goes on and on.
"…Christ also suffered for us, leaving us an example, that you should follow His steps (1 Peter 2:21)." Jesus Christ demonstrated the perfect model of living in both word and in conduct (1 Peter 2:22-24).  By following His model life, we may lead other souls to Him. As He set the example for us, He commanded us to set the example for others.
After washing the disciples' feet, He commanded them, "For I have given you an example, that you should do as I have done to you (John 13:15)." He truly showed them what it meant to be a servant.  After all, the "Son of Man did not come to be served, but to serve (Matthew 20:28)…" That is exactly what they did; they served Him by preaching the gospel!
Saul of Tarsus began in a bad way by persecuting Christians; however, that changed when he became a Christian. Later known as the apostle Paul, he began to set a good example by preaching the gospel. He wanted to be sure that as he would set an example, those following it would set a good example as well.  He told Timothy, "…Be thou an example to the believers in word, in conduct, in love, in spirit, in faith, in purity (1 Timothy 4:12)."
Christ demonstrated the perfect model for living and passed it on. Won't you accept Him and then follow His example, and pass it on to others?
---