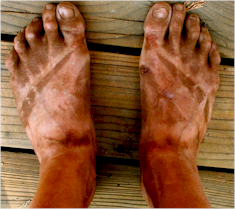 Feet that work for God are beautiful feet.
Let me give a big "Thank You!" to everyone who came out yesterday and participated in work day at the church building. There were many things that needed to be done, both inside and outside. They may not have been big things, or very visible, but they were important things to accomplish. It is good to know many people are interested in being workers for the Lord. Evidence of hard workers is indicated by sweaty faces, red hands, and even smelly, but beautiful feet.
You may have a turned up nose at the aforementioned thought. However, God would think differently! In His Word, the Bible, He says: "How beautiful upon the mountains are the feet of him who brings good news, who proclaims peace, who brings glad tidings of good things, who proclaims salvation, who says to Zion, 'Your God reigns (Isaiah 52:7)!'"
Yes, a physically, messy or dirty and tired person can be seen to be beautiful when viewed with spiritual eyes. Those who are hard-working for the Lord are precious in His sight. Those who go and preach the gospel of Christ and those who use the various talents that God has given them, whatever those talents may be, are very beautiful in His sight, and should also be beautiful in our sight.
Let us always let the beauty of Jesus be seen in us and be aware that we are living sermons, testifying of and for Him with our lives! Let us have beautiful feet and proclaim His good news of salvation before the world that they may also come unto Him and accept His offer of salvation from sin.
---