Salvation – What Must I Do to be Saved?
Salvation : Hear - Believe - Repent of Sin - Confess Christ - Be Baptized - Live Faithfully
---
What Must I Do to be Saved?  Where is My Salvation?
No more important questions have ever been asked.
The Bible clearly teaches that there is nothing more important than the human soul, "For what is a man profited, if he shall gain the whole world, and lose his own soul? or what shall a man give in exchange for his soul?" (Matthew 16:26 KJV).
The soul is so important because it will exist forever.
Have you ever stopped to think that a billion years from now, you will still be in existence? Your soul will be in one of two places: Heaven or Hell.
First, we must establish that there is a need to be saved.
The Scriptures teach that whenever anyone who is of an accountable age (able to understand what it means to disobey) commits a sin, he is lost.
What is sin?
"Whosoever committeth sin transgresseth also the law: for sin is the transgression of the law." (1 John 3:4 KJV). Sin is a transgression of God's law. When one transgresses God's law, he is separated from God, "But your iniquities have separated between you and your God, and your sins have hid his face from you, that he will not hear." (Isaiah 59:2 KJV).
The wages of this sin is death
"For the wages of sin is death; but the gift of God is eternal life through Jesus Christ our Lord." (Romans 6:23 KJV).  Sin causes one to be spiritually lost, separated from God.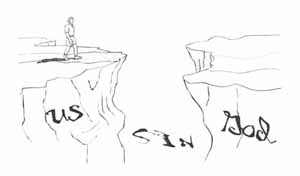 When one is in this this state, he is in need of asking the question; "What must I do to be saved?" (Acts 2:37)
The Bible puts forth several different things that one must do to be saved and accept the salvation offered by God.
If you have not done these things, do them immediately.
Then, continue to live faithfully before God, avoiding willful sin, and be assured of salvation in heaven. Please contact us and we will assist you.