Brian Giselbach?
Member Contributors: Andy - Don - Richard - Zach
Other Contributors: Andrew - Brian - Ralph - Roger - Russell
---
Brian Giselbach?
Contributor – Minister for the Wood Avenue Church of Christ in Florence Alabama.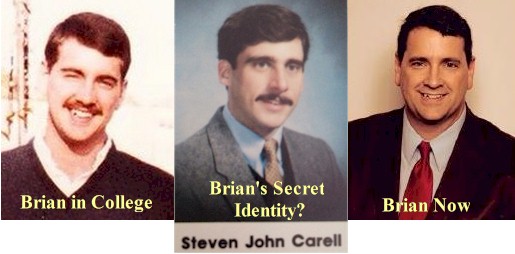 Brian claims that he grew up in Elwood, Indiana, and that he graduated from Freed-Hardeman University in 1985 followed by preaching and working with congregations in Tennessee, Florida, Ohio, Indiana, and Alabama.  But, did he have a secret life in his younger days?  Look at the photo evidence and decide for yourself. Is it just a passing resemblance, or is there more to the story? Sure, he has spoken on several lectureships (Freed-Hardeman, Northeast Florida, Power), and conducted meetings in Florida, Kentucky, Ohio, Tennessee, Georgia, Wisconsin, Indiana. Of course, Brian and his wife Beth have three grown children, Benjamin, Michelle and Brett and he is now a respectable member of the community. But was there a time in there he does not talk about?  Maybe you can get him to fess up about his murky past.
Brian is presenting our 2014 Gospel Meeting on Foundations of Faith.

Foundations of Faith
The group from Wood Avenue joined us on July 9th for Class and swelled our number to 56! Thursday was spent door knocking and preparing for the Sunshine Camp.  The
New Concord Church of Christ
provided lunch for the whole group.  Friday is continued door knocking in the area with a goal to contact over 2,000 households.

Then, Saturday is Sonshine Kid's Camp from 10-3, followed by Foundations of Faith Sunday through Wednesday.  We are very excited and thankful to be working together!
Recent Posts from Brian
(see all posts from Brian – 
Titles Only
or
With Excerpts
)
(This page is strictly in jest. Photo "evidence" provided by the Wood Avenue Group – Return to the Real Page)