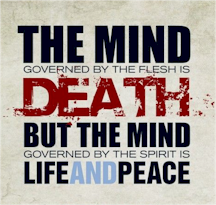 Podcast: Play in new window | Download
Text: Romans 8:5-7
Carnally Minded Versus Spiritually Minded
Two ways we can think: carnally minded or spiritually minded
"The mind is a terrible thing to waste." If used properly, the mind can be a wonderful tool; if misused, the mind can cause one to get into a lot of trouble. After all, our actions result from our thoughts. There are two fundamental ways we can think, and they are at odds with each other: carnally minded versus spiritually minded. Jesus said, "That which is born of the flesh is flesh, and that which is born of the Spirit is spirit (John 3:6)." Similarly, Paul stated: "For he who sows to his flesh will of the flesh reap corruption, but he who sows to the Spirit will of the Spirit reap everlasting life (Galatians 6:8)."
Carnally minded thinking is against God
The carnal (earthly, fleshly) mind is enmity against God (Romans 8:7-8). James says, "…Do you not know that friendship with the world is enmity with God? Whoever therefore wants to be a friend of the world makes himself an enemy of God (James 4:4)." Thinking on worldly things, being carnally minded, will lead to doing worldly deeds. Again, our thoughts preceed our actions. Paul lists the works of the flesh we need to avoid in Galatians 5:19-21.
Spiritually minded thinking brings life and peace
To be carnally minded is death, but to be spiritually minded is life and peace (Romans 8:6). The Spirit of God dwells in the spiritually minded; the body of sin is dead, yet the Spirit is life because of righteousness (Romans 8:9-10). The spiritually minded have the mind of Christ (1 Corinthians 2:14-16; John 15:15; Philippians 2:5; Colossians 3:1-2).
What do you often think about?
Be aware of the carnally minded versus spiritually minded war for your thoughts. Is your mind in the gutter? Is your minds in the clouds? Do you even know where your mind is focussed? What should you be thinking about? The fruit of the Spirit is found in Galatians 5:22-23. Paul tells us, "Finally, brethren, whatever things are true, whatever things are noble, whatever things are just, whatever things are pure, whatever things are lovely, whatever things are of good report, if there is any virtue and if there is anything praiseworthy – meditate on these things (Philippians 4:8)." Choose how you will think and the resulting actions that will follow.