Posts
Powered by GTranslate - multilingual website solutions.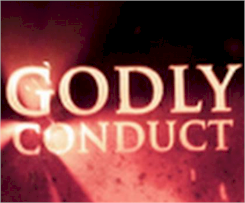 Are our lives characterized by Christian conduct?
"Only let your conversation be as it becometh the gospel of Christ: that whether I come and see you, or else be absent, I may hear of your affairs, that ye stand fast in one spirit, with one mind striving together for the faith of the gospel" (Philippians 1:27).
Make no mistake about it, God makes specific demands of His people. Christians must not adopt the ways of the world. We are commanded to conform to a higher standard. Our conversation (conduct) must be governed by the word of God. It must be Christian conduct. We must look to the Scriptures to determine the direction our lives take. Anything less can spell disaster.
Man is incapable of charting the correct course without proper guidance. Solomon wrote: "There is a way which seemeth right unto a man, but the ends thereof are the ways of death" (Proverbs 14:12). Jeremiah, the prophet, echoed those sentiments when he wrote: "O Lord, I know that the way of man is not in himself: it is not in man that walketh to direct his steps" (Jeremiah 10:23). God, knowing our limitations, sent Jesus into this world to show us the way to Him. In fact, Jesus said, "I am the way, the truth, and the life: no man cometh unto the Father, but by me" (John 14:6). He lived a perfect life. He showed us how to live. He left an example for us to follow (1 Peter 2:21-22).
It is impossible to follow Christ without paying careful attention to our conduct. We cannot be faithful children of God while living like the devil! We must have Christian conduct. No, Christians are not perfect, but they are also not slaves to sin. "Know ye not, that to whom yield yourselves servants to obey, his servants ye are to whom ye obey; whether of sin unto death, or of obedience unto righteousness? But God be thanked, that ye were the servants of sin, but ye have obeyed from the heart that form of doctrine which was delivered you. Being then made free from sin, ye became the servants of righteousness" (Romans 6:16-18).
Who do we serve? How do we live? Are our lives characterized by Christian conduct? If not, then we are not Christians!