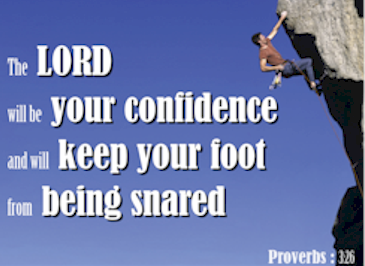 Put Your Confidence in The Lord
Is there someone who you cannot put confidence in?
When that person lets you down, how do you feel?  The wise man wrote, "Confidence in an unfaithful man in time of trouble is like a bad tooth and a foot out of joint (Proverbs 25:19)."
If you've ever had a root canal, you know how painful it is;
If your foot has come out of its joint, you know how it hurts.
An unfaithful person in times of trouble likewise hurts, and needs to develop confidence in The Lord.
You can always have confidence in The Lord!
On the other hand (or foot in this case), you watch where you're going so you won't get your foot caught.  "For the LORD will be your confidence, and will keep your foot from being caught (Proverbs 3:26)."  The Lord is someone who you can always put your confidence in.  He always does what He says He will do.
Paul was "confident of this very thing, that He who has begun a good work in you will complete it until the day of Jesus Christ (Philippians 1:6)."  God is at work in us, and will help us do good works for Him.
Having confidence in The Lord is better than trusting princes.
In whom would you rather have confidence, or put your trust?  For one, the clear choice is confidence in The Lord:
"I called on the LORD in distress; the LORD answered me and set me in a broad place.  The LORD is on my side; I will not fear.  What can man do to me?  The LORD is for me among those who help me; therefore I shall see my desire on those who hate me.  It is better to trust in the LORD than to put confidence in man.  It is better to trust in the LORD than to put confidence in princes (Psalm 118:5-9)."