(Did you jump into the middle of this?  Please start at the beginning of the decision tree.)
---
What does it mean to be grown up?
For our purposes in this discussion, we will consider it to be an age where one is mentally developed enough to understand the meaning of sin. Some might call it an age of accountability.  Physically and socially one may not have reached "adulthood"; but once there is an understanding of the concept of sin, there is an accountability for that sin, a responsibility for it.
Welcome to being grown up.
Spiritually, temptation has presented itself and you have failed to resist. sinning against God.  We all do at some point.  Now you are in a state where your sin has separated you from God and you are spiritually dead. Consider the following.
God has no sin
"This then is the message which we have heard of him, and declare unto you, that God is light, and in him is no darkness at all." – 1 John 1:5
We do have sin
"For all have sinned, and come short of the glory of God" – Romans 3:23
"If we say that we have no sin, we deceive ourselves, and the truth is not in us." – 1 John 1:8
"If we say that we have not sinned, we make him a liar, and his word is not in us." – 1 John 1:10
Therefore, our sin stands between us and God.
We can't bring our sin into God's presence.  – 1 John 1:5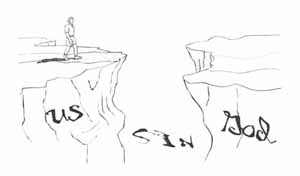 We have created a gulf, or separation, between us and God. – Isaiah 59:2
Knowing there is a God and you have separated yourself from Him…
What will you do (we will face this decision, day in and day out, all our lives)?
More about sin: