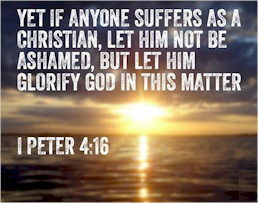 Don't be ashamed of being a Christian.
Christianity is under assault. Prayer has been banned from the classroom. Religious symbols have been prohibited on public property. The Ten Commandments have been removed from public display. Christians are regularly maligned. Michael Weisskopf wrote in the Washington Post that conservative Christians are "largely poor, uneducated and easy to command." The world is trying to make us ashamed of Christianity.
What should be the Christian response to these attacks on our faith? Jesus said: "You have heard that it was said, 'You shall love your neighbor and hate your enemy.' But I say to you, love your enemies, bless those who curse you, do good to those who hate you, and pray for those who spitefully use you and persecute you, that you may be sons of your Father in heaven; for He makes His sun rise on the evil and on the good, and sends rain on the just and on the unjust. For if you love those who love you, what rewards have you? Do not even the tax collectors do the same? And if you greet your brethren only, what do you do more than others? Do not even the tax collectors do so? Therefore you shall be perfect, just as your Father in heaven is perfect" (Matthew 5:43-48).
That Christianity is under assault comes as no surprise to Bible students. Jesus warned His disciples of the cost of discipleship on more than one occasion (Matthew 10:16-39; Luke 14:26-33). The real test of discipleship is our willingness to let our lights shine in the face of adversity and persecution. It's not hard to be a Christian when life is easy and burdens are light. The challenge is to live our faith in the face of ridicule and persecution without being ashamed. The enemies of Christ have no defense against the power of an upright life and a committed faith.
Take comfort in the words of Peter: "If you are reproached for the name of Christ, blessed are you, for the Spirit of glory and of God rests upon you. On their part He is blasphemed, but on your part He is glorified. But let none of you suffer as a murderer, a thief, an evildoer, or as a busybody in other people's matters. Yet if anyone suffers as a Christian, let him not be ashamed, but let him glorify God in this matter" (1 Peter 4:14-16).