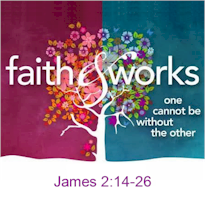 Podcast: Play in new window | Download
Text: James 2:14-26
I. Faith and works were present in Abraham.
A. Abraham first showed his faith by leaving his land and family, as God commanded him (Genesis 12:1-5; Hebrews 11:8-10).
B. He also showed his faith by offering Isaac on the altar (James 2:21-24; Hebrews 11:17-19; Genesis 22:1-18).
II. Faith and works were present in Rahab.
A. Rahab hid the spies, and spared their lives (Joshua 2:1-13).
B. By letting a scarlet cord out of the window, her life was spared when the city of Jericho was overtaken (Joshua 6:22-25; Hebrews 11:31).
III. Faith and works must be present  in us.
A. Faith
1. Faith is the substance of things hoped for, the evidence of things not seen (Hebrews 11:1).
2. Faith is necessary to come to God (Hebrews 11:6).
3. Faith comes from hearing the Word of God (Romans 10:17).
4. Faith without works is dead (James 2:17,20,26).
B. Works
1. Works admit us into the kingdom of heaven (Matthew 7:21-23).
2. Works show the love of God in us (1 John 3:17-18).
3. Works will be remembered by God (Hebrews 6:10).
4. Works must be done in the meekness of wisdom (James 3:13).
5. Works make faith perfect (James 2:22) and justifies it (James 2:24).
C. Faith and works were not both present in demons (James 2:19; Matthew 8:28-29; Mark 1:23-24).
D. Faith and works are both present in us when we:
1. Hear God's Word (Romans 10:17).
2. Believe Jesus Christ is the Son of God (John 8:24).
3. Repent of our sins (Luke 13:3,5).
4. Confess Christ (Matthew 10:32; Romans 10:9-10).
5. Are baptized for the remission of our sins (Mark 16:16; Acts 2:38).
6. Live faithful Christian lives unto our deaths (Revelation 2:10).
---