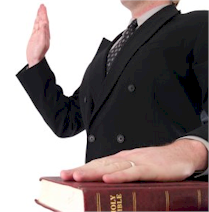 A faithful witness tells things as they are. a faithful witness tells the truth, no matter what.
When a person is accused of a crime he did not commit, he needs a lot of help to be acquitted. He needs a faithful witness. His true friends will always tell the truth, even in adversity, even when it may seem to damage the reputation of the accused. By telling the truth, the puzzle should come together and the accused may be set free. Thus the accused will realize what true friends he has.
Jesus was accused and put on trial. He did not see a faithful witness. Many told lies about Him, including His own apostles! However, Jesus remained faithful and obedient to the point of death (Philippians 2:8). Jesus died, was buried, and rose again so that we might obtain Heaven.
The wise man wrote, "A faithful witness does not lie, but a false witness will utter lies (Proverbs 14:5)." Jesus Christ is our faithful witness (Revelation 1:5). He does not lie (John 14:6)! As He was in the beginning with God and was God (John 1:1-2), He could tell us the things from His Heavenly Father. The Word of God is a true and faithful witness to show us the way to Heaven (John 17:17).
Jesus told the church at Laodicea, "These things says the Amen, the Faithful and True Witness, the Beginning of the creation of God (Revelation 3:14)…" What things does He wish to tell us? He tells us what we need to know in order to get to Heaven! He was there, and wants us to go there too! He is a true and faithful witness. Are we going to be a true and faithful witness of and for Him as we live our lives before the world?
---