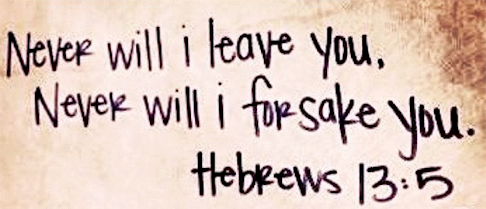 Podcast: Play in new window | Download
Forsake means to abandon, desert, leave, leave behind, or to neglect. When someone deserts us, or forsakes us, we may be expected to feel heartbroken, helpless, and all alone. We see this in Jesus. When He hung on the cross for our sins, He cried, "My God, My God, why have You forsaken Me? (Matthew 27:45-46; Mark 15:34; Psalm 22:1)"
Jesus did not sin (1 Peter 2:22), yet had to be the sacrifice for all sin (Isaiah 53:8-12). Even as our sin separates us from God (Isaiah 59:2), Jesus felt some sense of being alone when he took on the sin of the world; yet, God raised Him from the dead, as He will us (Psalm 16:10; Acts 2:25-36; 13:30-37; 2 Corinthians 4:14; Romans 8:11).
I. The Lord has not forsaken us.
A. The Lord has often said, "I will never leave you nor forsake you. (Hebrews 13:5; Deuteronomy 31:6, 8; Joshua 1:5)"
B. Paul reminds Christians that even though they may expect to be persecuted, they are not forsaken (2 Corinthians 4:8-9).
C. Even though some at first forsook Paul in his ministry, the Lord stood with him and strengthened him (2 Timothy 4:16-17; Philippians 4:13).
II. We must not forsake the Lord.
A. All of the disciples said they would not deny Jesus, but they did forsake Him and fled as He was betrayed (Matthew 26:35, 56).
B. When Jesus first called them, they left all to follow Him (Luke 5:1-11, 27-28).
C. Demas forsook Paul, having loved this present world (2 Timothy 4:10).
D. We are not to forsake the assembling of ourselves together, as is the manner of some (Hebrews 10:24-25).
The Lord has not forsaken us; we must not forsake Him. We must never abandon, desert, leave, or neglect Him. Have you come to Him yet?
---