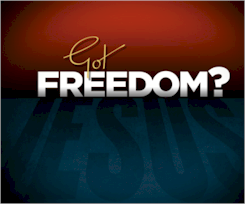 Value Your Freedom
Today (7/4/15) our nation celebrates Independence Day. I am grateful for the holiday and what it represents. I have difficulty imagining what it would be like to grow up in any other environment. It is the longing of the human heart to be free.
But, there is a freedom even more precious than that we know as citizens of the United States. It is the freedom we find in Jesus Christ. He said, "You shall know the truth, and the truth shall make you free" (John 8:32).
Apart from Christ, all men are enslaved to sin. Sin is the great burden of man's heart. We are helpless to remove it. We are condemned by it. Its consequences are both immediate and eternal. Paul cried out, "Wretched man that I am! Who will set me free from the body of this death? (Romans 7:24). And then he proclaimed, "Thanks be to God through Jesus Christ our Lord" (Romans 7:25).
Today is the Lord's Day. Christians will gather around the world to remember His sacrifice and the freedom it made possible – freedom from the condemnation of sin. "There is therefore no condemnation for those who are in Christ Jesus. For the law of the Spirit of life in Christ Jesus has set you free from the law of sin and of death" (Romans 8:1-2).
The cost of freedom is never cheap. The blood of many a native son has been shed to provide and maintain our freedom. Even now our young men and women in uniform are putting themselves in harm's way and giving their lives that we might be free. Yet, to secure our deliverance from sin required an even greater sacrifice – the blood of God's own Son.
The freedom we enjoy as citizens of the United States is ours by birth. The freedom we have in Christ is ours by choice. It is truth, believed and acted upon, which secures for us the freedom Christ provides. Have you been set free from the bondage of sin? Do you believe that Jesus Christ was the Son of God? Have you repented of your sins? Will you confess His blessed name? Will you be born again (baptized)?
As the bells of freedom ring throughout our land may they also remind us of the greater freedom we have through Christ.
---