Posts
Powered by GTranslate - multilingual website solutions.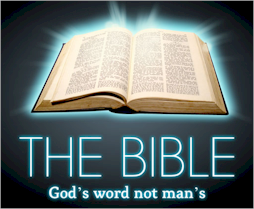 You can accept the Bible as God's Word.
I accept the trustworthiness of the Bible. I have confidence in the Scriptures. Peter said of the prophets of the Old Testament: "And so we have the prophetic word confirmed, which you do well to heed as a light that shines in a dark place, until the day dawns and the morning star rises in your hearts; knowing this first, that no prophecy of Scripture is of any private interpretation, for prophecy never came by the will of man, but holy men of God spoke as they were moved by the Holy Spirit (2 Peter 1:19-21)."
The apostle Paul wrote concerning Scripture (Old and New Testaments): "All Scripture is given by inspiration of God, and is profitable for doctrine, for reproof, for correction, for instruction in righteousness, that the man of God may be complete, thoroughly equipped for every good work (2 Timothy 3:16-17)." The Bible is no ordinary book. The handiwork of God can be seen upon every page. It is not meant to be read as the mere creation of mortal minds, but as the product of the mind of God. The Christians at Thessalonica were commended because they received the God's word not as the word of men, but as it is in truth, the word of God (1 Thessalonians 2:13).
Further, the New Testament writers were eyewitnesses of the things of which they wrote. Peter said: "For we did not follow cunningly devised fables when we made known to you the power and coming of our Lord Jesus Christ, but were eyewitnesses of His majesty (2 Peter 1:16)." The apostle John was just as emphatic when he wrote: "That which was from the beginning, which we have heard, which we have seen with our eyes, which we have looked upon, and our hands have handled, concerning the Word of life (1 John 1:1)." Guided by God's Spirit, theirs was eyewitness testimony. They express no doubt that Jesus was the God's Son. We can trust their testimony!
The Bible is God's word. We would be wise to heed the call of the prophet Jeremiah who cried out, "O earth, earth, earth, hear the word of the Lord (Jeremiah 22:29)."