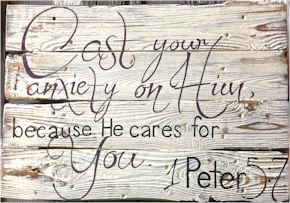 God Cares About Me
"Clothe yourselves, all of you, with humility toward one another for God opposes the proud but gives grace to the humble. Humble yourselves, therefore, under the mighty hand of God so that at the proper time he may exalt you, casting all your anxieties on him, because he cares for you" (1 Peter 5:5-7).
There are approximately six billion people in our world, and that number is growing daily. Frankly, I have trouble comprehending the great sea of humanity and my place in it. Who am I among so many? There are others who are smarter, stronger, better looking, and more talented than me. Yet, in God's eyes I am special!
HE KNOWS ME AND STILL HE CARES ABOUT ME!
Paul warned the churches of Galatia about the dangers of returning to their formal sinful ways. He asked how they could contemplate doing that now that they had come to know God, or rather, God had come to know them (Galatians 4:9). God also knows me, down to the number of hairs on my head (Matthew 10:30). He knows me intimately and still He cares for me, in spite of all my flaws and failings.
HE LOVES ME AND HE CARES ABOUT ME!
He loved me so much that He gave His Son for me (John 3:16). It was an inexpressible gift (2 Corinthians 9:15). I have done nothing worthy of His love, yet He still loves me. Even when I am unloving, rebellious, and sinful, He still cares (Romans 8:31-39). Nothing can separate me from His love through Jesus. Yet, His love will not protect me from my bad choices, nor will it save me if I will not save myself.
HE HEARS ME BECAUSE HE CARES ABOUT ME!
The eyes of the Lord are on the righteous, and his ears are open to their prayer (1 Peter 3:12). "If my people who are called by my name humble themselves, and pray and seek my face and turn from their wicked ways, then I will hear from heaven and will forgive their sin and heal their land" (2 Chronicles 7:14). "The Lord is near to all who call on him, to all who call on him in truth" (Psalm 145:18). "The prayer of a righteous person has great power as it is working" (James 5:16). I don't know how He does it, but I know He does. He hears and answers my prayers. The answer may not always be the one I seek, but it will always be the right answer.
HE PROVIDES FOR ME IN HIS CARE FOR ME!
He has not promised to satisfy my every desire, but He has promised to meet my every need, but not unconditionally. Just as surely as He clothes the lilies and feeds the birds, He provides for His own. If I will seek first the kingdom of God and his righteousness, He will always meet my needs. (Matthew 6:25-33). David observed: "I have been young, and now am old, yet I have not seen the righteous forsaken or his children begging for bread" (Psalm 37:25). He has not promised to do for me what I can do for myself, but He will sustain, strengthen, and never disappoint!
BECAUSE HE CARES ABOUT ME HE SAVES ME!
I can't do it on my own. It's only because of His grace that my salvation is possible (Ephesians 2:5-10). That doesn't mean that I have no obligation to Him. He gave His Son for me, but I must accept Him as my Savior, and do so on His terms and not my own. After all, He is the author of eternal salvation to all who obey Him (Hebrews 5:9).
HE CARES ABOUT ME!