Home as God Designed It
Husbands and Fathers - Wives and Mothers - Children
---
Children: An Heritage of the Lord
There is no doubt that children are a special blessing in any family. For the first seven years of our marriage, my wife and I struggled with the painful frustration of childlessness. We knew all too well the feeling expressed by Rachel, when she said to Jacob, in her desperation, "Give me children or else I die" (Genesis 30:1). But, when we adopted our son, sadness immediately turned to joy and we have always felt like we have had a special appreciation for the sentiment in Psalm 127:3-5.
If there is a role for children to play in the home, it is to be obedient to their parents and to learn all that they can from them. Ephesians 6:1-3 says, "Children, obey your parents in the Lord: for this is right. Honor thy father and mother; which is the first commandment with promise; that it may be well with thee, and thou mayest live long on the earth." The concept of children being obedient to their parents is described in the text as inherently "right." In the natural world, the young look to the old for guidance and for a proper example of how to behave successfully. Parents owe it to their children to set a good example and to guide them in following the way of the Lord (Ephesians 6:4). Also, children are directly commanded to "honor" their parents, which goes to the concept of respect. Parents are owed respect from their children simply because they are the parents. A wise child learns to respect and appreciate his parents at an early age. If we take our parents for granted, we will find that they are gone from our lives much too soon.
In an almost instinctual way, children are prone to push their parents to the limits of their patience, but parents must not be faint of heart. It is only natural for children to test the boundaries of acceptable behavior and it is up to parents to keep those boundaries clear and consistent. Children must understand that most parents are not trying to ruin their lives, or take all the fun out of everything. Parents tend to want only what is best for their children. Kids would do well to keep this in mind.
"Lo, children are an heritage of the Lord and the fruit of the womb is his reward. As arrows are in the hand of a mighty man; so are children of the youth. Happy is the man that hath his quiver full of them"
– Psalm 127:3-5
---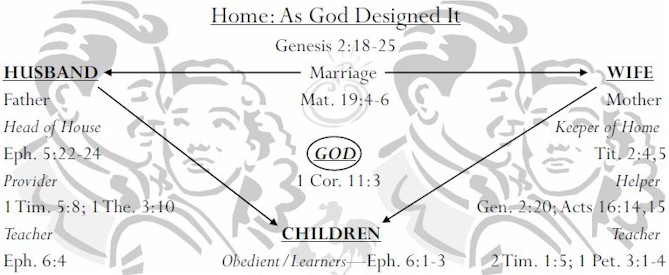 Is God Part of Your Family?
Families everywhere are in crisis. The integrity of what was once considered an "average" family (husband/father with wife/mother and children all living together in one house) is under assault from numerous adversaries. Many have given up on the ideals of marriage and family life, in favor of modern sensibilities. But, we don't have to settle for anything less than the Biblical model of what "home" is all about. If you want a truly Christian home, then the first thing you need to do is make God part of your family. This happens when families make God's Word the central focus of their lives. When the Bible is read in the home, obeyed in the home, and reverenced in the home, then the home will be as God designed it. The problem with modern families is that they are not based on God's design for the home. Let's all dedicate ourselves to making God part of our families. Our lives will be better for having made the effort.