Text: Acts 2:41-42
Lesson Aims
For the Christian to gain knowledge of how differently people will respond to the gospel.
To be prepared with joy, to be set for the defense of the gospel of Jesus Christ – 1 Peter 3:15
To understand that the Word of God is a powerful force and when it is proclaimed, you will have various responses to it – Hebrews 4:12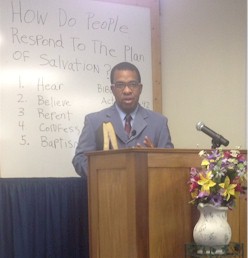 Read These Lesson Texts
ACTS 4:1-4 (PRIESTS, CAPTAIN OF TEMPLE, SADDUCEES & PEOPLE);
ACTS 13:4-12 (SERGIUS PAULUS); ACTS 26:1-29 (PAUL, FESTUS, AGRIPPA,)
(1) Grieved/Believed
(2) False prophet Bar-jesus not happy / deputy believed
(3) Paul obeyed, Festus didn't believe the message of Paul, King Agippa almost persuade to be a Christian.
How Do People Respond When Hearing the Message of Salvation?
READ PARABLE OF SOWER EXPLANATION, MATTHEW 13:18-23
(SEED RECEIVED BY THE WAY SIDE)
Some hear the Word of God, may not understand it fully, or the devil plants thoughts of doubt and disbelief in one's mind of What God says through traditions, worldly values, or false doctrine.
Others hear the Word of God and receive it with joy but there not rooted and grounded enough in the Word of God to grow properly and as a result when it is time to put your faith in God in action they fall away through trials/suffering.
(SEED RECEIVED IN STONY PLACES)
In (Acts 5:1-11), Ananias and Sapphira are examples of Christians who were not rooted and grounded in the truth and paid the price.
A number of people hear the Word of God, and their love for money and the world causes them to be with odds with God – James 4:4.
(SEED RECEIVED AMONG THORNS)
These worldly vises choke the Word of God – Matthew 19:23-26; I Timothy 6:6-10
(SEED RECEIVED IN GOOD GROUND)
There will be some people who receive and obey the Word of God, and will endure temptations to the end to obtain the crown of life that God will give them (James 1:12).  (SEED RECEIVED IN GOOD GROUND)
How Much Effort?
How hard is it to become a Christian, according to the New Testament pattern
Compared to becoming a denominational member?
How Do People Respond…
Do people accept that repentance and baptism are necessary elements of accepting God's salvation?
Repenting of your sins is not an easy task to embark on but is necessary, if you want to have a right relationship with God and draw closer to being saved – Acts 17:30-31; Luke 13:3; Acts 2:38
Repentance signifies to change one's mind or purpose – 2 Corinthians 7:9-10
This occurs when you learn your behavior or actions are contrary to God's Word and you work at aligning or changing your life to God's standard to the best of your ability – Acts 26:9-11
What is the common response to the necessity of repentance in God's plan of salvation?
Why are people not willing to lose their life to save it? – Mark 8:34-37
Baptism is required
Baptism is necessary for your salvation just as the other works of faith are necessary for salvation such as:
– Confession of Jesus as the Son of God (Matthew 10:32-33; Romans 10:9-10)
– Hearing the gospel message (Romans 10:17)
– Repenting of past sins (Luke 13:3)
– Having faith in God (Hebrews 11:6)
How do people respond to the Word of God when it clearly says baptism is one of the necessary components for one's salvation?
See Matthew 28:18-20; Mark 16:16; Acts 2:28; Acts 22:16; I Peter 3:21, plus all of the 9 examples of conversion in the book of acts include baptism!
Metanoeo (verb): "to perceive afterwards" (meta, "after," implying "change," noeo, "to perceive;"
2 Corinthians 7:10 …Godly sorrow worketh repentance to salvation
Baptizo (verb): "to dip repeatedly, to immerse, to submerge (of vessels sunk) to cleanse by dipping or submerging, to wash, to make clean with water, to wash one's self, bathe to overwhelm"
Romans 6:1-4
Notice that all 9 conversion included Baptism
1. Pentecost – Acts 2:36-39
2. The Samaritians – Acts 8:5-13
3. The Ethiopian Eunuch – Acts 8:26-40
4. Saul of Tarsus – Acts 9:1-22; Acts 22:3-16
5. Cornelius – Acts 10:1-48
6. Lydia – Acts 16:13-15
7. The Philippian Jailer – Acts 16:22-34
8. The Corinthians – Acts 18:1-8
9. The Ephesians – Acts 19:1-5