Every time hostilities erupt in the Middle East, the prophets of doom and gloom kick into high gear. "It's just what the Bible predicted. It won't be long until the Lord returns. The signs are pointing to His coming!" I am sure those who make such predictions about the end of the world are sincere, but they could not be more wrong.
Yes, I'm familiar with the passage most often cited, but it has no relevance to current events. The disciples asked Jesus, "Tell us, when will these things be? And what shall be the sign of Your coming, and of the end of the age?" (Matthew 24:3). These questions were raised in response to Jesus prophecy concerning the destruction of the temple (Matthew 24:1-2). In response to their questions Jesus said: "Take heed that no one deceives you. For many will come in My name, saying, 'I am the Christ,' and will deceive many. And you will hear of wars and rumors of wars. See that you are not troubled; for all these things must come to pass, but the end is not yet. For nation will rise against nation, and kingdom against kingdom. And there will be famines, pestilences, and earthquakes in various places. All these are the beginnings of sorrows…" (Matthew 24:4-51). The vast majority of this chapter deals with the destruction of Jerusalem, the Temple, and the end of the Mosaic age.
The Second Coming of Christ and the End of This World
Make no mistake, the Bible warns over and over of the Second Coming of Christ and the end of this world. However, there will be no signs that His return is imminent. His coming is likened to that of a thief in the night (Matthew 24:42, 43; 1 Thessalonians 5:2; 2 Peter 3:10). At His return He will judge the world in righteousness (Acts 17:31). A vivid description of what will occur at His return is provided in Scripture (2 Thessalonians 1:7-10; 2 Peter 3:8-13).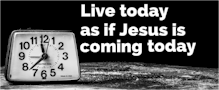 The message of the Bible regarding the Second Coming of Christ and the end of this world is clear. We must be ever vigilant for He may come at any time. The Bible places no emphasis on when He will return, and anyone who claims to know when He is coming is lying.
The good news is that if we are ready, it doesn't matter when He returns. Are you prepared for the end of this world?