Old
-
G
E
L
N
D
J
J
R
1S
2S
1K
2K
1C
2C
E
N
E
J
P
P
E
S
I
J
L
E
D
H
J
A
O
J
M
N
H
Z
H
Z
M
New
-
M
M
L
J
A
R
1C
2C
G
E
P
C
1Th
2Th
1T
2T
T
P
H
J
1P
2P
1J
2J
3J
J
R
-
Topical
-
All
-
Archive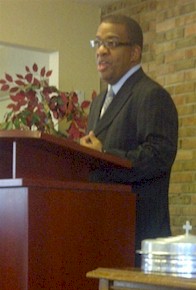 Podcast: Play in new window | Download
Text: Isaiah 53:4-6
Introduction
You and I have a great burden, load, or weight, something in which is very heavy, we can not bear alone.
This burden that needs lifted from our shoulders is the deadly weight of sin – 1 John 3:4
All of us have this weight on our shoulders – Romans 3:10, 23
Jesus bore all the weight of our sin on the cross that we might live. We stood condemned to die, but Jesus freely took our place that we might live – 1 Peter 2:24
---
Body
Before Jesus went to the cross, He bore mockings of the solders whom stripped Him of His clothes and platted a crown of thorns on His head, saying "Hail King of the Jews – Matthew 27:27-31. Jesus, bore the physical pain and shame of crucifixion, He bore the cruel mockings of the Jews – Matthew 27:39-43. He also bore ridicule of one of the malefactors crucified with Him – Luke 23:39.
Why did Jesus have to bear it all for the sins of the world? Because, almost all things, by the law, are purged by shedding blood – Hebrews 9:22. And that the animal sacrifices of the Law of Moses were not sufficient to take away sins – Hebrews 10:1-4. This is why Jesus offered himself once for the sins of the world because, He is the perfect sacrifice for sin – Hebrews 9:28.
Jesus bore it all to break the chains/bonds of sin and to set the captives free. Jesus bore it all to conquer sin and death, so those that would believe and obey Jesus Christ would be saved – John 3:16.
The Holy Spirit along with Jesus is pleading with you to come that you might live – Revelation 22:17.
---