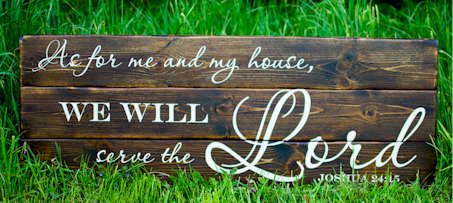 Podcast: Play in new window | Download
Text: Joshua 24:15-16
We Will Serve The Lord
Joshua met with all the elders, heads, judges, and officers of the tribes of Israel. He reminded them of all God had done for them, and how loyal they must be to Him. He then commanded them to choose whom to serve: to either serve the false gods their fathers served, or serve the Lord, the one true God, who had done so much for them.
Body
I. We must serve only the LORD!
A. Jesus told Satan that he must serve the LORD only (Matthew 4:10).
B. If one serves the Lord, he cannot serve anyone or anything else.  He may not have two masters (Matthew 6:24; Galatians 1:10).
C. Zacharias prophesied that we may serve the LORD "without fear, in holiness and righteousness before Him all the days of our life" (Luke 1:74-75).
1) If we are afraid to serve Him, we will have our part in the lake which burns with fire and brimstone (Revelation 21:8).
2) There is nothing to fear in serving God; by seeking first His kingdom and righteousness, all things will be added to us (Matthew 6:33).
D. To serve the Lord, we must do three things (Matthew 16:24-26):
1) Deny ourselves
2) Take up our cross
3) Follow Him.
II. Jesus taught us how to serve the Lord in two ways.
A. He taught us how to serve the Lord by His words (Matthew 20:26-28).
B. He taught us how to serve the Lord by example (John 13:1-17; Philippians 2:7).
III. Serving the LORD has its rewards.
A. Those who serve the Lord will receive the reward of the inheritance (Colossians 3:23-24).
B. By serving Him, the LORD gives us the kingdom and eternal life (Matthew 25:31-46).
Conclusion
We too must make a choice: should we serve people or things; should we serve the LORD? If we choose the latter, we will be eternally rewarded!