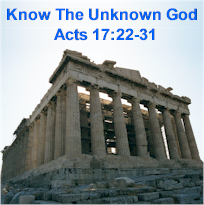 Podcast: Play in new window | Download
Text: Acts 17:22-31
Know God?
The Greeks did not know God. They sought after wisdom. Christ, the Son of God, was foolishness to them (1 Corinthians 1:22-24). Even so, Paul wanted them to know God!
I. Know God who made the world and everything in it.
A. In the beginning, God created the heavens and the earth (Genesis 1:1).
B. God made us; we did not make ourselves (Psalm 100:3).
C. Without Christ, "nothing was made that was made (John 1:3)."
D. By Christ, all things were created in heaven and on earth (Colossians 1:16-17).
E. He is Lord of heaven and earth (Acts 17:24-25; Matthew 11:25).
II. Know God who has set our boundaries
A. He set the boundaries for the children of Israel (Deuteronomy 32:8).
B. He "makes nations great, and destroys them; he enlarges nations, and guides them (Job 12:23)."
C. God does with us according to His will (Daniel 4:35).
D. God would not allow man to build a tower to the heavens (Genesis 11:1-9).
III. Know that God who desires us to seek Him.
A. God has given us ample evidence to know he exists (Romans 1:20-23).
B. God is very near to us (Deuteronomy 4:7; Jeremiah 23:23-24).
C. God may be found (Isaiah 55:6; Matthew 7:7).
IV. Know God who commands everyone everywhere to repent.
A. If we don't repent, we will perish (Luke 13:3,5).
B. God does not want anyone to perish, but to come to repentance (2 Peter 3:9).
C. We must deny ungodliness and worldly lusts, and live soberly, righteously, and godly (Titus 2:11-12).
V. Know God will judge the world in righteousness by Christ.
A. God ordained Christ to be Judge of the living and dead (Acts 10:42).
B. The word that Jesus has spoken will judge us in the last day (John 12:48).
C. The Lord is the righteous Judge (2 Timothy 4:8).
Do You Know God?
If you don't know God yet, you can start now by reading His Word and learning His will. Then, you will have to decide how to respond.
---