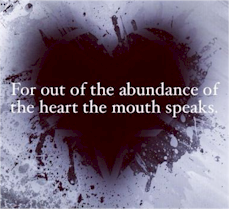 Podcast: Play in new window | Download
Text: Matthew 15:10-20 (Reading by Andy Anderson)
What makes a man defiled?
The Scribes and Pharisees accused Jesus' disciples of defiling themselves as they ate bread with unwashed hands (Matthew 15:1-2). Jesus responded to the scribes and Pharisees by showing that they did not keep God's commandments themselves because of their tradition (Matthew 15:3-9).
It is not what goes into the mouth that makes a man defiled, but what comes out of the mouth, for the mouth shows the heart. Are you showing the heart of a man defiled by sin?
I. A man is not defiled by what goes into his mouth.
A. Jesus explained to His disciples that whatever enters the mouth goes into the stomach, and is eliminated (Matthew 15:17; Mark 7:18-19).
B. Paul explained that food is for the stomach and stomach for food, but God will destroy both (1 Corinthians 6:13).
C. Peter learned that God has the authority to call unclean food clean (Acts 10:14-15; Leviticus 11).
D. Paul was convinced that nothing is unclean of itself (Romans 14:14-17).
E. Food is not to be refused if it is received with thanksgiving (1 Timothy 4:3-4).
II. What comes out of the mouth comes from the heart.
A. We should not let our mouth cause us to sin (Ecclesiastes 5:6).
B. Out of the abundance of the heart the mouth speaks (Matthew 12:34-37).
C. The tongue is a fire, a world of iniquity (James 3:6, 8-10).
III. What is in the heart defiles a man.
A. The LORD searches the heart (Jeremiah 17:9-10; 11:20; Revelation 2:23).
B. As a man thinks in his heart, so is he (Proverbs 23:7; 27:19).
C. Jesus explained what was in man's heart (Matthew 15:19-20; Mark 7:21-23).
D. The word of God is a discerner of the thoughts and intents of the heart (Hebrews 4:12).
What comes out of the mouth comes from the heart, and it shows a man defiled! Instead of putting evil into our hearts, we need to put in the good and remove what defiles us.
Jesus said, "Blessed are the pure in heart, for they shall see God (Matthew 5:8).
Ezekiel pleaded, "Cast away all the transgressions which you have committed, and get yourselves a new heart and a new spirit (Ezekiel 18:31)."
David pleaded, "Create in me a clean heart, O God, and renew a steadfast spirit within me (Psalm 51:10)."
Does your mouth show the heart of a man defiled? Won't you get a pure heart right now by washing it clean from sin with the blood of Christ?
---