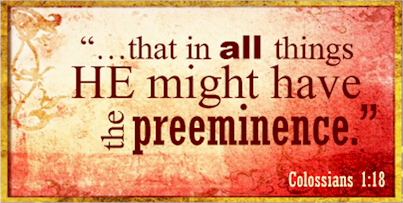 Are We to Seek Preeminence? Whoever Exalts Himself Will Be Humbled!
"Diotrephes… loves to have the preeminence among them (3 John 9)." John criticizes him for loving himself first above others, and commands fellow Christians not to follow his bad example. Paul wrote to the Romans with a similar message about preeminence, "For I say, through the grace given to me, to everyone who is among you, not to think of himself more highly than he ought to think, but to think soberly, as God has dealt to each one a measure of faith (Romans 12:3)."
Jesus, on the other hand, "is the head of the body, the church, who is the beginning, the firstborn from the dead, that in all things He may have the preeminence (Colossians 1:18)." He has the preeminence and is first in all things, especially the church! God has exalted Him.
Diotrephes sought to have preeminence; Jesus already has it! Too many times individuals try to take the place that is already reserved for another. This may happen in the home, the workforce, and even in the church. Nothing good can come from this concept of placing ourselves above others; in fact, many divisions occur as a result. This self-seeking is against what Jesus prayed for and what Paul pleaded for (John 17:21-23; 1 Corinthians 1:10). Jesus said, "whoever exalts himself will be humbled, and he who humbles himself will be exalted (Matthew 23:12)."
Regardless of our role in the home, workforce, or church, we need to recognize that Jesus has all authority (Matthew 28:18)! Let us not seek preeminence and to elevate ourselves, but abide by His authority. Have you come to Him in humility and accepted His authority in salvation?
---