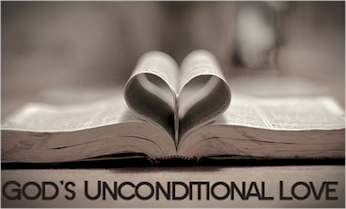 Does God love us? YES!
Who shall separate us from the love of Christ? Shall tribulation, or distress, or persecution, or famine, or nakedness, or peril, or sword? As it is written: "For your sake we are killed all day long; We are counted as sheep for the slaughter." Yet in all things we are more than conquerors through Him that loved us. For I am persuaded that neither death nor life, nor angels nor principalities nor powers, not things present nor things to come, nor height nor depth, nor any other created thing, shall be able to separate us from the love of God which is in Christ Jesus our Lord (Romans 8:35-39).
What a marvelous affirmation: We are loved unconditionally! Nothing and no one can stop the Father from loving His creation. As one poet wrote: "Could we with ink the ocean fill; were every blade of grass a quill. Were all the world of parchment made, and every man a scribe by trade. To write the love of God above, would drain the ocean dry, nor could the scroll contain the whole, though stretched from sky to sky."
The Bible is filled with affirmations of God's love. God did not merely shout His love from heaven, He sent His Son to prove His love.
"In this was manifested the love of God toward us, because that God sent his only begotten Son into the world, that we might live through him. Herein is love, not that we loved God, but that he loved us, and sent his Son…" (1 John 4:9-10).
"Hereby perceive we the love of God, because he laid down his life for us…" (1 John 3:16).
"Behold what manner of love the Father has bestowed on us, that we should be called the sons of God" (1 John 3:1).
I should point out that although the Bible underscores the unconditional love of God for us (nothing can come between God and His love for His children), it does not say that nothing can come between man and his love for God. In fact, there are explicit warnings in Scripture which tell us not to allow other things to crowd the love of God out of our hearts. We are specifically admonished not to love the world nor the things of this world, for the love of the world makes our profession of love for God null and void (1 John 2:15-17).
Does God love us? The answer is an emphatic YES! Do we love Him? That's another story. "If you love Me, keep My commandments" (John 14:15). How say ye?
---