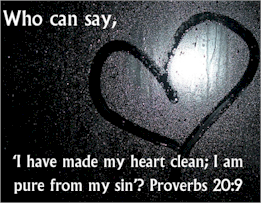 Has your heart been made you pure from sin?
We all have questions that we may ask ourselves from time to time.
"What did I come in here for?"
"Where did I put that?"
"What is on my to do list today?"
Some questions are asked every day for that day; other questions may be asked in retrospect throughout a lifetime.
"What if I had chosen that job…?"
"What if I moved there…?"
Perhaps some questions are best left unanswered. However, there is one question that we must ask, and honestly answer, for ourselves. This question has eternal implications and consequences.
Proverbs 20:9: "Who can say, 'I have made my heart clean, I am pure from my sin?'" Solomon penned these words, and understood the importance of a clean heart before God. David pleaded with God that He would create a clean heart in himself, and would be cleaned from his sins (Psalm 51).
We need to have the same concern for the condition of our heart. We can cleanse our hearts and be pure from sin by drawing near to God (James 4:8). Jesus died on the cross for us, shedding His blood to cleanse us from our sins. By being baptized for the remission of sins (Acts 22:16), we can have a heart that is pure of sin. Only then can we say, "I have made my heart clean, I am pure from my sin."
---