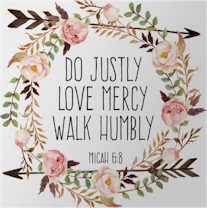 Podcast: Play in new window | Download
The Lord's Requirements:
We know that there are many things in this life that have worldly requirements we have to meet: name, birth certificate, education, previous work experience, and the like. Different people and situations may require different things of us. However, there are three requirements that the LORD has for our lives (Micah 6:8) that we must be diligent to meet in order to be pleasing to Him:
1. The Lord Requires Us To Do Justly.
a. The LORD knew that Abraham would teach his children and household after him to "do righteousness and justice (Genesis 18:19)."
b. Paul behaved himself "devoutly and justly and blamelessly" before the Thessalonians (1 Thessalonians 2:10).
c. We must think on whatever things are just (Philippians 4:8).
d. The just shall live by faith (Habakkuk 2:4; Romans 1:17; Galatians 3:11; Hebrews 10:38).
2. The Lord Requires Us To Love Mercy.
a. God has mercy on whom He wills (Romans 9:15,18; Exodus 33:19).
b. His mercies are not consumed; they are "new every morning (Lamentations 3:22-23)."
c. As He is merciful, so should we be merciful (Luke 6:36).
3. The Lord Requires Us To Walk Humbly With Him.
a. "Humble yourselves in the sight of the Lord, and He will lift you up (James 4:10)."
b. "Humble yourselves under the mighty hand of God, that He may exalt you in due time (1 Peter 5:6)."
c. "Whoever exalts himself will be humbled, and he who humbles himself will be exalted (Matthew 23:12)."
d. God resists the proud, but gives grace to the humble (James 4:6; 1 Peter 5:5; Proverbs 3:34).
Are We Meeting The LORD's Requirements?
If we are diligent to meet His requirements, we will receive the eternal reward that we so desire. We will be with The Lord!