Old
-
G
E
L
N
D
J
J
R
1S
2S
1K
2K
1C
2C
E
N
E
J
P
P
E
S
I
J
L
E
D
H
J
A
O
J
M
N
H
Z
H
Z
M
New
-
M
M
L
J
A
R
1C
2C
G
E
P
C
1Th
2Th
1T
2T
T
P
H
J
1P
2P
1J
2J
3J
J
R
-
Topical
-
All
-
Archive
Podcast: Play in new window | Download
Text: Revelation 1:18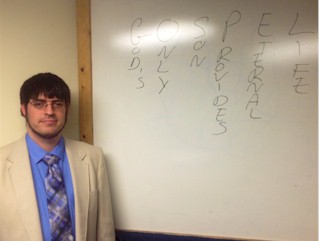 I. Christ lived!
A. He was born of a virgin as prophesied and witnessed by the wise men, Simeon, Anna, and others – Matthew 1; Luke 2
B. Jesus grew, and amazed many with His wisdom and understanding – Luke 2:52
C. Jesus was baptized by John to fulfill all righteousness – Matthew 3:15
D. He performed many miracles as multitudes witnessed.
E. He overcame temptation, witnessed by the devil – Matthew 4
F. Jesus taught His disciples, the Jews, the Pharisees, the Sadducees, and countless others.
II. Christ died!
A. He was falsely accused and put on trial:
i. They placed a crown of thorns on His head.
ii. He was struck, spat upon and mocked.
iii. He was crucified on a cross.
iv. His side was pierced with a spear.
v. Darkness covered the sky.
vi. The veil of the temple was torn in two from top to bottom.
vii. The earth quaked, the rocks were split, and graves were opened.
B. Witnessing these events, the centurion and guards confessed "truly this was the Son of God." – Matthew 27:54
C. Joseph of Arimathea:
i. Wrapped the body of Jesus.
ii. Lay His body in the tomb.
iii. Rolled the large stone to guard the entrance.
III. Christ arose!
A. The tomb was empty!
i. The stone was rolled away.
ii. The linen clothes and handkerchief were neatly folded separately.
B. An angel declared,
i. "He is risen"
ii. "why do you seek the living among the dead?"
C. He appeared to:
i. Mary
ii. The apostles
iii. Some on the road to Emmaus
iv. Saul of Tarsus
v. Over 500 at one time!
IV. Christ lives forevermore!
A. Romans 6:3-5, 8-11
B. 1 Corinthians 15:1-26, 54-57
C. 2 Timothy 1:10
D. Acts 2:22-24
V. Because of Christ's death, burial, and resurrection, we can live forever!
A. Eternal life is in Christ alone – John 11:25-27; 1 John 5:10-13 John 10:10
B. To be in Christ, one must be baptized into Christ – Galatians 3:27
C. All spiritual blessings are in Christ – Ephesians 1:3
D. Just as Christ died, was buried, and rose again, we must die to sin, be buried with Christ, and be raised to walk a new life – Romans 6:1-5
E. Man must die except Christ should come first, but then what? – Hebrews 9:27