Posts
Powered by GTranslate - multilingual website solutions.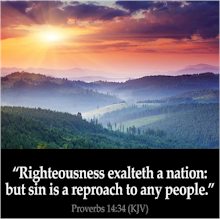 Righteousness delivers time and again. Our nation needs to return to righteousness.
There was once a time when a country was not true to God, even though a few citizens may have been. He told Ezekiel, "'Son of man, when a land sins against Me by persistent unfaithfulness, I will stretch out My hand against it; I will cut off its supply of bread, send famine on it, and cut off man and beast from it.  Even if these three men, Noah, Daniel, and Job, were in it, they would deliver only themselves by their righteousness,' says the Lord God (Ezekiel 14:13-14)."
Noah (Genesis 6-9) was faithful to God. When man's every intent of the thoughts of his heart was only evil continually, Noah found grace in the eyes of the LORD (Genesis 6:5,8). Even though God destroyed the earth by so great a flood, we see that righteousness delivers Noah and seven others. They were saved in the ark.
Daniel prayed to God often, and his friends would not bow down and worship the king. Even though they were thrown into a den of lions or into the fiery furnace (respectively), they were delivered by God; those that threw them in perished. Righteousness delivers again.
Job never blamed God for his adversity. Even though many things were taken away from him, yet he remained faithful to God and did not sin with his lips (Job 2:10). After a while, Job was blessed with more than what he had at the beginning. Yet again, righteousness delivers.
There is a great concern today about our nation. By persistent unfaithfulness, the LORD may turn against it. However, the righteous will be delivered!  The wise man said, "Righteousness exalts a nation, but sin is a reproach to any people (Proverbs 14:34)."  Let us be among the righteous few that the LORD may deliver.