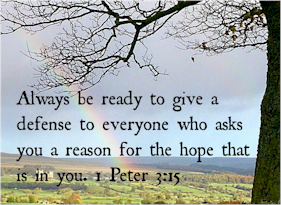 Podcast: Play in new window | Download
The Importance of Scripture
In 1 Peter 3:15 the Scripture tells us, "But sanctify the Lord God in your hearts, and always be ready to give a defense to everyone who asks you a reason for the hope that is in you, with meekness and fear." As Christians, we must always be prepared to defend the faith. Why do we believe what we believe? Why do we live like we live? In order to answer these and other questions, we must know the scripture, the Word of God.
Knowledge of Scripture is important because:
In it we think we have eternal life, and it testifies of Jesus (John 5:39).
All Scripture is given by inspiration of God (2 Timothy 3:16).
Holy men of God spoke as they were moved by the Holy Spirit (2 Peter 1:21).
Whatever we do, we must "do all in the name of the Lord Jesus (Colossians 3:17)…"
Studying Scripture approves us to God (2 Timothy 2:15).
It is also important to know where Scripture teaches on certain topics.
Jesus was able to overcome temptation by knowing what was written in Scripture (Luke 4:4, 8, 12).
The Ethiopian eunuch was reading from Isaiah, and Philip began at the same Scripture and preached Jesus unto him (Acts 8:28-35).
Paul reasoned from the Scriptures, preaching Christ (Acts 17:2-3).
We must not only know where a Scripture can be found, we must also know what it really teaches.
The Bereans were noble in that they searched the Scriptures daily to see whether such things were so (Acts 17:11).
Untaught and unstable people twist the Scriptures to their own destruction (2 Peter 3:16).
No prophecy of Scripture is of any private interpretation (2 Peter 1:20).
Paul often asked, "What does the Scripture say?" He also said, "The Scripture says (Romans 4:3; 9:17; 10:11; 11:2; Galatians 4:30; 1 Timothy 5:18)…"
Would you be rebuked or commended?
Jesus rebuked the Sadducees for not knowing the Scriptures (Matthew 22:29); Paul commended Timothy for knowing the Scriptures (2 Timothy 3:15). Are we to be rebuked, or commended in our knowledge of the Scriptures?