Podcast: Play in new window | Download
Text: 2 Timothy 3:12
Introduction
How many remember when you were baptized into Christ, when all of your sins were washed away?
Was it not a time of rejoicing and happiness?
Just as it was when Philip baptized the Ethiopian eunuch in Acts 8:38-39.
It was said of him "… and he went on his way rejoicing." – Acts 8:39
And truly the time of one's conversion is great occasion because "… old things are passed away; behold, all things are become new." – 2 Corinthians 5:17
And then one day you come to Bible study excited, until you learn about what is written on the board: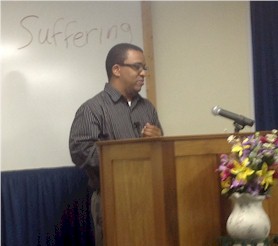 All Christians Will Experience and Endure Suffering
The express will of God says, "Yea, and all that will live godly in Christ Jesus shall suffer persecution." – 2 Timothy 3:12
Suffering for Christ, is like taking all the necessary classes, doing all the readings, reports, and tests to get your degree.
When we are partakers in Jesus sufferings, we're also partaker in His blessings – 1 Peter 4:1-2; 1 Peter 4:12-16
Our sufferings in the Lord will be an everlasting blessing, if we endure to the end – James 5:10-11
There is a great reward in heaven for those who will suffer for the name of Christ – Matthew 5:10-12
Conclusion
Consider what the Apostle Paul says in Romans 8:18, "For I reckon that the sufferings of this present time are not worthy to be compared with the glory which shall be revealed in us."
Therefore, let all of us be encouraged and not be afraid to suffer for Jesus that you might have life.
Hear    Believe    Repent    Confess    Baptism    Live    Faithfully to Death
(Invitation – Gahanna-Jefferson Church of Christ 8-22-2012 by bro. Harry D. Anderson, Jr.)