Thanks to
Johnny O. Trail
from the
Sycamore Chapel Church of Christ
for the content of this post.
---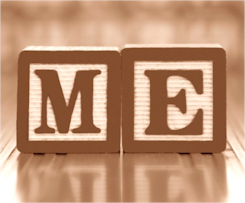 Almost all sin is based in selfishness.
One can trace just about every imaginable sin to selfish behaviors. As a matter of fact, the first sin appealed to the fulfillment of self, selfishness. In offering temptations, Satan wants humankind to focus on himself and be based in selfishness. This is the very thing he did in the Garden of Eden. Genesis 3:2-5 says, "And the woman said to the serpent, "We may eat of the fruit of the trees in the garden, but God said, 'You shall not eat of the fruit of the tree that is in the midst of the garden, neither shall you touch it, lest you die.'" But the serpent said to the woman, "You will not surely die. For God knows that when you eat of it your eyes will be opened, and you will be like God, knowing good and evil."
The epitome of Christ and Christianity is self-denial. That being the case, selfishness is the antithesis of true Christian living. Jesus makes this apparent throughout His earthly ministry. Do you see any selfishness in this statement? Matthew 16:24-26 says, "Then Jesus told his disciples, "If anyone would come after me, let him deny himself and take up his cross and follow me. For whoever would save his life will lose it, but whoever loses his life for my sake will find it. For what will it profit a man if he gains the whole world and forfeits his soul? Or what shall a man give in return for his soul?"
A recent article in the Tennessean regarding the vote on Amendment One underscores the nature of selfishness. A woman from Alabama was interview regarding the upcoming vote on the aforementioned amendment. She was alarmed to learn that Tennessee was trying to close the loopholes in its existing abortion laws. Notice how many times this woman seeking an abortion uses the term "I":
"I know a lot of people are excited when they hear they're pregnant, but I felt like I was looking at a brick wall between me and everything I wanted to do by the time I hit my 30s and 40s," said Mae, who asked that her full name be withheld to protect her privacy. "I was not in a place where I physically, emotionally, mentally and financially could, in all clear conscience, bring a child into the world."
Can you see the selfishness? Simply stated, she saw this unborn child as a hindrance to her future happiness. The unborn child erected a "brick wall between [her] and everything [she] wanted to do…" Nonetheless, she felt comfortable having premarital sex so she could fulfill the selfish needs of her flesh. She wanted all of the pleasure of a sensual relationship but none of the responsibilities that come along with it. Regardless of what many claim, the vast majority of abortions are done as a means of birth control so people can maintain their own selfish lifestyles.
Arrogance and pride are also sins associated with selfishness. When one assumes that he is successful without God's assistance, the fall of that person is coming quickly. This was one of the faults of the king of Assyria. Notice what Isaiah says about him. Isaiah 10:12-14 says, "When the Lord has finished all his work on Mount Zion and on Jerusalem, he will punish the speech of the arrogant heart of the king of Assyria and the boastful look in his eyes. For he says: "By the strength of my hand I have done it, and by my wisdom, for I have understanding; I remove the boundaries of peoples, and plunder their treasures; like a bull I bring down those who sit on thrones. My hand has found like a nest the wealth of the peoples; and as one gathers eggs that have been forsaken, so I have gathered all the earth; and there was none that moved a wing or opened the mouth or chirped."
Contrary to his self-inflated opinion, the king of Assyria is merely a rod of correction in the hands of God. Notice what is said in Isaiah 10:15 "Shall the axe boast over him who hews with it, or the saw magnify itself against him who wields it? As if a rod should wield him who lifts it, or as if a staff should lift him who is not wood!" A few chapters later King Sennacherib would see the defeat of his army at the gates of Jerusalem and his own death at the hands of his sons. Isaiah 37:36-38 says, "Then the angel of the LORD went forth, and smote in the camp of the Assyrians a hundred and fourscore and five thousand: and when they arose early in the morning, behold, they were all dead corpses. So Sennacherib king of Assyria departed, and went and returned, and dwelt at Nineveh. And it came to pass, as he was worshipping in the house of Nisroch his god, that Adrammelech and Sharezer his sons smote him with the sword; and they escaped into the land of Armenia: and Esarhaddon his son reigned in his stead."
When one removes God from his future plans, he is doomed to failure for God is the one who sees and controls the future of all people. James 4:13-15 says, "Come now, you who say, "Today or tomorrow we will go into such and such a town and spend a year there and trade and make a profit"-yet you do not know what tomorrow will bring. What is your life? For you are a mist that appears for a little time and then vanishes. Instead you ought to say, "If the Lord wills, we will live and do this or that." We should endeavor to seek God's will for our lives and include Him in all of our plans.
Selfishness, focusing on self, is a means of self-destruction. Romans 2:8-9 says, "But for those who are self-seeking and do not obey the truth, but obey unrighteousness, there will be wrath and fury. There will be tribulation and distress for every human being who does evil, the Jew first and also the Greek." This is further echoed by Paul in 2 Timothy 3:1-5. "But understand this, that in the last days there will come times of difficulty. For people will be lovers of self, lovers of money, proud, arrogant, abusive, disobedient to their parents, ungrateful, unholy, heartless, unappeasable, slanderous, without self-control, brutal, not loving good, treacherous, reckless, swollen with conceit, lovers of pleasure rather than lovers of God, having the appearance of godliness, but denying its power. Avoid such people."
God calls upon His followers to be selfless in regards to their Christian walk, giving up selfishness. Jesus was the epitome of a selfless servant of God seeking only His father's will in faithful obedience toward Him. He had no selfishness. Philippians 2:5-8 says, "Let this mind be in you, which was also in Christ Jesus: Who, being in the form of God, thought it not robbery to be equal with God: But made himself of no reputation, and took upon him the form of a servant, and was made in the likeness of men: And being found in fashion as a man, he humbled himself, and became obedient unto death, even the death of the cross." We should strive to like the Master in our service to mankind, giving up selfishness. May we endeavor to be like Him every day.
---

Johnny O. Trail preaches at the Sycamore Chapel Church of Christ
2699 Old Clarksville Pike
Ashland City, TN 37015

615-746-8624