Thanks to
Al Parr
, working with the
Saline Church of Christ
, for the content of this post.
---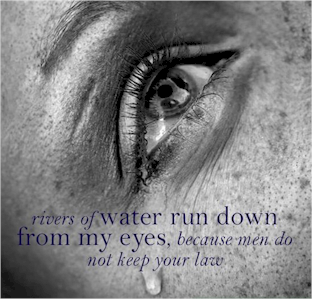 Psalm 119:136 KJV – "Rivers of waters run down mine eyes, because they keep not thy law."
Psalm 119 is about the Bible: the origin, nature and authority of it, and the attitude toward it – of believers, of unbelievers and of God Himself. When the penman looked at the people of the world, he was "grieved, because they kept not thy word" (Psalm 119:158 KJV).
When you and I consider the lost condition of the multitudes among whom we live, our reaction can take one of three courses. We can:
[1] ignore the situation as something we cannot change
[2] judge them guilty of ignoring their Maker and His love
[3] fear for their souls, and try to teach them eternal truth
Probably most of us take the first course. Sadly, some take the second. Our God-inspired example is to feel the "rivers of waters" and the third course.
The apostle Paul had "great heaviness and continual sorrow in my heart. For I could wish that myself were accursed from Christ for my brethren, my kinsmen according to the flesh" (Romans 9:1-3 KJV). When he thought of those who had set themselves as enemies of Christ and opponents of the gospel, he wept (Philippians 3:18).
What makes you weep and moves you to rivers of waters? Personal injury and loss? The suffering of a loved one? These things should bring upon us throes of compassion, but the Christian's love should be broader than to include only those of his own company.
"For God so loved that He gave…" (John 3:16 KJV)  "For the love of Christ constraineth us…" (2 Corinthians 5:14 KJV)  How will the lost be saved if the saved don't care?
---

Al Parr works Confirming the Churches and preaches at the Saline Church of Christ
7300 East Michigan Avenue
Saline, MI 48176

734-429-4319
Old
-
G
E
L
N
D
J
J
R
1S
2S
1K
2K
1C
2C
E
N
E
J
P
P
E
S
I
J
L
E
D
H
J
A
O
J
M
N
H
Z
H
Z
M
New
-
M
M
L
J
A
R
1C
2C
G
E
P
C
1Th
2Th
1T
2T
T
P
H
J
1P
2P
1J
2J
3J
J
R
-
Topical
-
All
-
Archive
Podcast: Play in new window | Download
Text: 1 John 5:14-17
Introduction
1. Rapidly approaching the end of his epistle, John has a few words on the subject of prayer – 1 John 5:14-17
2. This is not the first time he has broached this subject, for he has already mentioned…
a. The value of confessing our sins, which is done in prayer – 1 John 1:9
b. Our Advocate in prayer, Jesus Christ the righteous – 1 John 2:1
c. One reason why we receive what we ask in prayer – 1 John 3:22
3. In his final words on this subject, John does two things:
a. Expands upon a theme in prayer already introduced praying with confidence
b. Brings in another theme in prayer that is harmony with his teachings on brotherly love, praying with compassion
Body
I. PRAYING WITH CONFIDENCE (1 John 5:14-15)
A. REQUIRES ASKING ACCORDING TO GOD'S WILL
1. This is the point emphasized in 1 John 5:14-15
2. Confidence in prayer is not based upon some assumption that we have carte blanche in regards to prayer
a. Some may improperly conclude that we do from Jesus' statements in John 14:13-14
b. But even Jesus' own example illustrates that answer to prayer depends upon whether or not it is in harmony with God's will – Matthew 26:39, 42
c. Paul learned this same lesson when he prayed about his thorn in the flesh – 2 Corinthians 12:7-9
3. However, the more we learn God's revealed will
a. The more likely we will pray according to His will
b. The greater confidence we can have that our prayers will be answered accordingly
B. REQUIRES KEEPING GOD'S COMMANDMENTS
1. This was stressed in 1 John 3:22
2. Even if we are asking something that would normally be within God's will for us
a. If we are not keeping His commandments
b. …can we really expect God to favorably answer our prayers?
3. As Peter quoted from the Proverbs: "For the eyes of the LORD are on the righteous, And his ears are open to their prayers…" – 1 Peter 3:12
4. The righteous, of course, are those who "do those things that are pleasing in His sight" – 1 John 3:22b
5. Especially in regard to believing in Jesus and loving the brethren, two commandments given to us – 1 John 3:23
C. REQUIRES ABIDING IN JESUS, AND HIS WORDS ABIDING IN US
1. This was taught by Jesus Himself, and recorded by John – John 15:7
2. This should also help to clarify any misunderstanding from taking John 14:13-14 in isolation from its context
3. These words of Jesus actually summarize what we have already seen John to say
a. Confidence in prayer depends upon keeping the commandments, but keeping the commandments is the key to abiding in Jesus! – 1 John 3:24a
b. Confidence in prayer depends upon asking according to God's Will, but if Jesus' words abide in us, won't that help us know what God's will is, and what is proper to ask of Him?
D. Therefore, if we learn the words of Jesus, keep His commandments and thereby abide in Him, we will know what is in harmony with God's will and pray accordingly. In this way we can have the confidence in prayer of which John writes!
II. PRAYING WITH COMPASSION (1 John 5:16-17)
A. FOR A BROTHER
1. This epistle of John has been one in which John has stressed "brotherly love"
2. He has told us that we "ought to lay down our lives for the brethren" – 1 John 3:16
3. He has said that if "one sees his brother in need, and shuts up his heart from him, how does the love of God abide in him?"- 1 John 3:17
4. Certainly, then, we should be willing and ready to pray for our brethren
B. SINNING A SIN NOT UNTO DEATH
1. This is a difficult passage, one that raises several questions
a. What is the "sin not unto death" versus the "sin unto death"?
b. What is meant that "He will give him life"?
c. Whatever conclusions we draw should be in harmony with the rest of the scriptures, and with other principles revealed therein, just as we do not draw conclusions about praying with confidence based upon John 4:13-14 alone
2. To understanding of this passage we must see:
a. The difference between "a sin which does not lead to death" and "a sin leading to death" is:
1) John says in 1 John 5:17a, "all unrighteousness is sin", therefore all sin is not to be taken lightly
2) But there is sin "not leading to death"
a) That is, sin which does not progress to the point in which one experiences spiritual death, or separation from God
b) As indicated by James, sin does not produce "death" until it is "full grown" – James 1:15
c) Sin which does not produce (lead to) death would therefore be sin "repented of"
3) Sin "leading to death", producing spiritual death and separation from God would be sin "unrepented of"
a) We cannot expect God to forgive one who refuses to repent
b) As John writes with some understatement: "I do not say that he should pray about that" – 1 John 5:16d
C. GOD WILL GIVE HIM LIFE
1. If the "death" in this passage is "spiritual death", it is natural to assume the life is "spiritual life"
a. The "life" which God will grant our penitent brother in answer to our prayers could also be described as "forgiveness"
b. Which is a crucial element of the "eternal life" to which John has referred throughout this epistle
2. Thus the promise offered in 1 John 1:9 to the child of God who penitently confesses his own sin in prayer is offered in 1 John 5:16 to the penitent brother when prayer is made on his behalf by another member of the family of God
a. One might ask, "Why bother to pray for a penitent brother if his sins will be forgiven anyway," as taught in 1 John 1:9?
b. One answer might be found in James 5:16, where we are taught to pray for one another: "The effective, fervent prayer of a righteous man avails much."
Conclusion
1. The privilege of prayer is a wonderful blessing, especially when we do so with:
a. Confidence
b. Compassion
2. Are we fulfilling the requirements to be able to pray with confidence?
a. Abiding in Jesus, and letting His words abide in us?
b. Keeping His commandments and doing the things pleasing in His sight?
c. Asking according to God's Will?
3. Are we praying with compassion?
a. Praying not only for ourselves, but for our brethren in need?
b. Praying for brethren overtaken by sin, but who have demonstrated that their sin is not one leading to death?
3. As we all need the fullness of God's blessings in our lives, let's encourage one another to do whatever we can to be able to pray with both confidence and compassion!