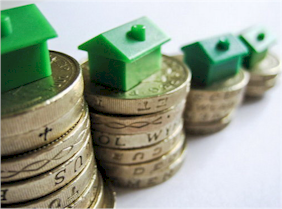 Beware of things and coveting them.
"And he said unto them, take heed, and beware of covetousness: for a man's life consisteth not in the abundance of the things which he possesseth" (Luke 12:15).
The story is sometimes told of a country boy who was invited by a very wealthy uncle to visit New York City. It was the first time the young man had ever been away from his home in the hills and he was filled with wonder. He spent his first day window shopping on Fifth Avenue. That evening his uncle asked him what he thought of the 'Big Apple.' The boy hesitated a moment and then said, "Well, uncle, I never saw so many things in all my life that I could so easily do without!"
Has it ever occurred to you that much of what you want you don't really need? This week's necessity is destined for next week's garage sale. Things just don't satisfy. Beware of things owning you instead of you owning them.
The Bible offers some sobering thoughts regarding the things that are really important. Jesus asked, "…what is a man profited if he gain the whole world, and lose his own soul? Or what shall a Man give in exchange for his soul" (Matthew 16:26). Paul wrote, "But godliness with contentment is great gain. For we brought nothing into this world and it is certain we can carry nothing out" (1 Timothy 6:6-7). The important question is not, "How much do we have?, but, "How do we use what we have?"
I do not mean to suggest that there is anything inherently wrong in having things. I do, however, want us to remember and beware of things that can never make us truly happy.
Our most urgent need is still to know and obey Jesus Christ. All the things in the world cannot compensate for our failure to do so come Judgment Day. Have you learned of Him and responded to His love for you?
---
Old
-
G
E
L
N
D
J
J
R
1S
2S
1K
2K
1C
2C
E
N
E
J
P
P
E
S
I
J
L
E
D
H
J
A
O
J
M
N
H
Z
H
Z
M
New
-
M
M
L
J
A
R
1C
2C
G
E
P
C
1Th
2Th
1T
2T
T
P
H
J
1P
2P
1J
2J
3J
J
R
-
Topical
-
All
-
Archive
Podcast: Play in new window | Download
Text: Joshua 7:10-13, 19-26 (Reading by Steven Winland)
Achan is Aching!  The Sin of Covetousness.
Introduction
A. Achan and other examples of covetousness:
1) Achan, the son of Carmi, of the tribe of Judah, did something that made the LORD angry: he coveted the garment, silver, and gold of the Babylonians. He greatly desired something that did not belong to him. Then he took it and hid it. As a result of disobeying the LORD, he died (Joshua 7:1, 10-13, 19-26)
2) Ahab coveted Naboth's vineyard, and Jezebel killed him so Ahab could take it (1 Kings 21).
3) David coveted Bathsheba and had her husband killed so he could have her (2 Samuel 11).
B. Have you desired something strongly that belonged to someone else?
1) Did you want it so bad that you would do anything to get it, even at the cost of others?
2) Did you want more and more of something, and can never get enough?
3) Did you want it more than wanting God?
Body
I. Covetousness is sin.
A. The 10th commandment stated: "You shall not covet your neighbor's house; you shall not covet your neighbor's wife, nor his male servant, nor his female servant, nor his ox, nor his donkey, nor anything that is your neighbor's (Exodus 20:17; Deuteronomy 5:21)."
B. The prophet Micah pronounced woe to those that devise iniquity; they covet fields and take them by violence, and oppress men (Micah 2:1-2).
C. The LORD said covetousness is iniquity (Isaiah 57:17).
D. Jesus said that covetousness comes from within, and defiles men (Mark 7:21-23).
E. Those that practice covetousness are deserving of death (Romans 1:29,32).
F. Covetousness is idolatry; a Christian must no longer covet (Colossians 3:5; Ephesians 5:3).
G. A covetous person has no inheritance in the kingdom of Christ and God (Ephesians 5:5; 1 Corinthians 6:10).
II. How should a Christian respond to covetousness?
A. Jesus said to beware of it (Luke 12:15).
1) False prophets exploit people by deceptive words and by covetousness, and will be punished (2 Peter 2:3).
2) False prophets have a heart trained in covetous practices (2 Peter 2:14).
B. The wise man wrote, "The desire of a lazy man kills him, for his hands refuse to labor. He covets greedily all day long, but the righteous gives and does not spare (Proverbs 21:25-26).
C. The Psalmist wrote, "Incline my heart to Your testimonies, and not to covetousness (Psalm 119:36)."
D. The wise man also wrote, "A ruler who lacks understanding is a great oppressor, but he who hates covetousness will prolong his days (Proverbs 28:16)."
E. Have no fellowship with covetous people (1 Corinthians 5:11).
Conclusion
A. "Let your conduct be without covetousness; be content with such things as you have. For He Himself has said, 'I will never leave you nor forsake you (Hebrews 13:5).'"
1) Paul did not covet; rather, he was content with what he had (Acts 20:33-35; 1 Thessalonians 2:5). He worked for it!
2) Paul warned Timothy that the time would come when men would love themselves and other things more than God (2 Timothy 3:1-2). He earlier told him that the love of money is the root of all kinds of evil (1 Timothy 6:10), as were the Pharisees (Luke 16:14).
B. Not coveting and all other commandments are summed up in this: "You shall love your neighbor as yourself (Romans 13:9)."