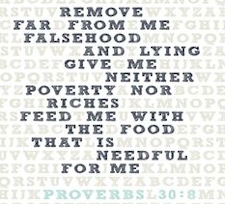 What would you want as a last request?
People often make a last request. Often, it is recorded in their last will and testament. They want certain things to happen after they die. Also, they may have goals to reach before they die. If someone finds out they do not have much time left on this earth, he may make one last request. What would you want as a last request?
Consider two things requested of God by Agur: "Two things I request of You (deprive me not before I die): remove falsehood and lies far from me; give me neither poverty nor riches – feed me with the food allotted to me; lest I be full and deny You, and say, 'Who is the LORD?' or lest I be poor and steal, and profane the name of my God (Proverbs 30:7-9)."
His first request is to remove falsehood and lies far from him. Lying is something that God is not pleased with. In fact, "…all liars shall have their part in the lake which burns with fire and brimstone, which is the second death (Revelation 21:8)." We all need to be forgiven of the sin of lying, and that is the truth.
His second request is to receive neither poverty nor riches. If he has too little, he may be tempted to steal and profane the name of God. This would, of course, break one of God's original commandments (Exodus 20:15). If he has too much, he may deny the LORD. Jesus said that if we deny Him, He will deny us (Matthew 10:33). Consider the apostle Paul: he knew what it was like to be without, and he knew what it was like to have too much. In all things, he was content (Philippians 4:11-12).
What would your last request of God be? Would your last request, your desire, be for salvation and acceptance by God?
---
Old
-
G
E
L
N
D
J
J
R
1S
2S
1K
2K
1C
2C
E
N
E
J
P
P
E
S
I
J
L
E
D
H
J
A
O
J
M
N
H
Z
H
Z
M
New
-
M
M
L
J
A
R
1C
2C
G
E
P
C
1Th
2Th
1T
2T
T
P
H
J
1P
2P
1J
2J
3J
J
R
-
Topical
-
All
-
Archive
Podcast: Play in new window | Download
Text: Hebrews 11:6
Introduction
A. A right relationship with God does not happen by accident — it requires deliberate action We need to make more careful decisions about God
B. In the last lesson, we saw that we must BELIEVE that God is
C. In this lesson, we will focus on the word SEEK — God is "a rewarder of those who diligently seek Him"
1. "Seeking" God has become somewhat of a fad in recent years
2. Unfortunately, much that is called "seeking God" is little more than an exercise in self-gratification
D. What does it mean to seek God?
Body
I. WHAT SEEKING GOD IS
A. First, let's consider some things that seeking God is not (These things will certainly accompany seeking God, and if things like these weren't present in a person's life, that would indicate a deficiency in that person's seeking But by themselves these things don't necessarily mean that a person is seeking God)
1. Church membership, attendance
2. Bible study, prayer
3. Helping others
4. Doctrinal soundness
5. Personal evangelism – Matthew 23:15
6. Spiritual feelings – Romans 10:2
B. What seeking God is:
1. Growth in OBEDIENCE
2. With a desire to LOVE and HONOR God MORE each day
C. A deep longing to be closer to God — closer to Him than our sins have allowed us to be in the past!
D. A conscious, deliberate goal that we reach for – Philippians 3:13-14
E. Some similar expressions in the Scriptures
1. Desiring God: A fervent longing – Psalm 27:4
2. Loving God with all our hearts: A wholehearted affection – Matthew 22:37-38
3. Calling upon the Lord: An earnest appeal – Isaiah 55:6
II. WHY SEEKING GOD IS SO IMPORTANT
A. God desires fellowship only with those who deeply desire such fellowship – John 4:23
B. Seeking God is a "first-principles" issue
1. Having to do with the heart, this is surely among the "weightier matters" – Matthew 23:23
2. Some "first-principles" passages – Micah 6:8; Matthew 22:37-40; Acts 24:25
3. Much more fundamental than many of the "basics" that we emphasize
C. God's promises to the seeker:
1. "Then you will call upon Me and go and pray to Me, and I will listen to you and you will seek Me and find Me, when you search for Me with all your heart" – Jeremiah 29:12-13
2. "Ask, and it will be given to you; seek, and you will find; knock, and it will be opened to you For everyone who asks receives, and he who seeks finds, and to him who knocks it will be opened" – Matthew 7:7-8
III. ARE WE SEEKING GOD OR NOT? A SELF-TEST
A. Our need for an honest self-inventory – 2 Corinthians 13:5
1. Are we seeking to fill our minds more and more with the KNOWLEDGE of God?
2. Are we seeking to bring our thoughts, words, and deeds more into line with the WILL of God?
3. Are we seeking more and more to engage in WORSHIP unto God?
4. Are we seeking more and more to be with the PEOPLE of God?
B. God is seeking those who are seeking Him – John 4:23
Conclusion
A. Many of us have grown up in sound, faithful congregations and never learned a real desire for God Himself
B. Religion is not only about serving God — it is also about desiring Him
C. "One thing I have desired of the LORD, that will I seek: that I may dwell in the house of the LORD all the days of my life, to behold the beauty of the LORD, and to inquire in His temple" – Psalm 27:4
D. Having a DEEPER DESIRE FOR GOD every day is what this life is all about!