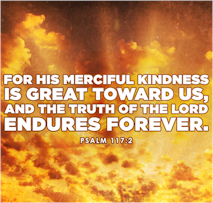 God's Truth Abides Forever.
There are too many things that do not last very long. They do not abide.
John said that the world is passing away, and its lust (1 John 2:17).
James said our life is a vapor that appears for a little time and then vanishes away (James 4:14).
All too often we allow ourselves to get caught up in the things that do not last; instead, we need to pay attention to what will abide, what does last.
The Psalmist wrote, "His merciful kindness is great toward us, and the truth of the LORD endures forever (Psalm 117:2)."  God's truth abides forever. It will last, even when other things do not! The Psalmist also wrote, "The LORD is good; His mercy is everlasting, and His truth endures to all generations (Psalm 100:5)."
God's truth was in the beginning; it is here now; it will always exist.
In the New Testament, Jesus gives us three sources of truth:
Jesus Himself (John 14:6)
God, His Father (John 17:3)
God's Word (John 17:17)
John earlier told us that Jesus was in the beginning with God (John 1:1-2).  In the beginning, God spoke and created light (Genesis 1:1-3).  Today, Jesus is sitting at the right hand of God (Romans 8:34; Colossians 3:1).  The word of God is with us today through the Bible (2 Timothy 3:16-17); God's truth abides forever (1 Peter 1:25; Isaiah 40:8).
God, His Son, and His Word always were; they still are; they always will be. Their truth abides forever. That's the truth! It has been proven over and over again that the Bible is accurate in every way. Believe it and follow God's instructions! Jesus said, "And you shall know the truth, and the truth shall make you free (John 8:32)." The truth abides forever, and if we do what we are commanded to do with it, we shall abide forever with them!
---
Podcast: Play in new window | Download

A warranty or life-time guarantee means a lot in this day and time. We need people and things that are very dependable. Often, tests are done to determine how reliable a product is for consumers. People often tell us they will do things, and may or may not do them.
Deuteronomy 18:15-22. God gives us a test for who is really from Him. All we have to do is see if what they say will come to pass. If it does, they are of God; if not, they are not. Also, this text tells us of a Prophet will arise that will speak God's words to His people.
Daniel 2:44-45. Daniel tells Nebuchadnezzar that God will set up a kingdom that will stand forever. That "dream is certain, and its interpretation is sure." Daniel, a prophet, guarantees that God's kingdom will be set up and stand forever!
Luke 1:30-33. The angel of the Lord told Mary that she would have a Son. Of Him, "The Lord God will give Him the throne of His father David. And He will reign over the house of Jacob forever, and of His kingdom there will be no end." What further proof do we need than God's angel affirming Jesus was this very prophet?
A. Matthew 16:18-19. Jesus promised to build His church, the kingdom of God.
B. John 18:36. Jesus' kingdom is not of this world.
C. Hebrews 12:28. The kingdom of God cannot be shaken.
D. 1 Thessalonians 2:12. God calls us into the kingdom.
Jesus was the Prophet of God. He established His kingdom, the church, and it still stands today. Do you want to be a part of God's kingdom? Will you share the gospel with others so they can be part of God's kingdom too?

Today is a day (December 25th) that many people wish would last forever. If kids have been good all year, then they just might get that special something they always wanted.
The Preacher recognizes that some things can last forever! Where we will be eternally depends on what we do here and now. The Preacher says, "I know that whatever God does, it shall be forever. Nothing can be added to it, and nothing taken from it. God does it, that men should fear before Him. That which is has already been, and what is to be has already been; and God requires an account of what is past (Ecclesiastes 3:14-15)."
I. What God has done shall last forever.
A. The mercy of God endures forever (Psalm 136).
B. Jesus Christ, God's only begotten Son, abides forever (John 1:1-2,14; 12:34; Hebrews 13:8).
C. His righteousness and salvation will abide forever (Isaiah 51:6).
D. His kingdom will last forever (Daniel 2:44).
E. The Word of God lives and abides forever (1 Peter 1:23).
II. We cannot add to or take away from what God does.
A. His Word is complete (Revelation 22:18-19; 2 Timothy 3:16-17).
B. All of God's gifts are good and perfect (James 1:17).
III. God requires an account of what is past.
A. Each of us will give account of ourselves to God (Romans 14:12).
B. We will give an account to who is ready to judge the living and the dead (1 Peter 4:5).
C. We will all appear before the judgment seat of Christ, and will be rewarded for what we have done, whether it be good or bad (2 Corinthians 5:10).
What we do in this life determines our eternal status: if we are faithful to God, we will forever be with Him in Heaven; if we do not obey the gospel or live faithfully, we will enter into eternal death. God has given us eternal gifts to save our eternal souls; will we accept them?