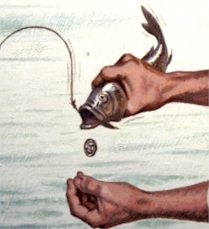 Podcast: Play in new window | Download
Text: Luke 20:20-26 (Reading by Andy Anderson)
Different people deserve different things:
Parents take good care of their children, and thus deserve much support and appreciation.
Teachers have command of the classroom, and must have the attention of their students and assignments turned in on time.
Bosses oversee employees to help make the company successful, and thus deserves projects turned in on time and respect.
Coaches help athletes become better athletes and better individuals, and deserve a great effort from them.
The same is true with our government and with God. Give to each his due.
I. Government: Give to Caesar the things that are Caesar's.
A. Every soul must be subject to governing authorities (Romans 13:1-2).
B. Peter indicated that even Jesus paid the temple tax (Matthew 17:24-27).
C. Christians likewise are subject to every ordinance of man (1 Peter 2:13-17; Romans 13:6-7).
II. God: Give to God the things that are God's.
A. We must give ourselves as living sacrifices to God (Romans 12:1-2; 2 Corinthians 8:1-5).
B. We must give financially as we have been prospered (1 Corinthians 16:1-2; 2 Corinthians 9:6-7; Romans 12:8; Mark 12:41-44).
C. We must fear God, keeping His commandments (Ecclesiastes 12:13; Proverbs 24:21; Deuteronomy 6:1-2).
D. God requires us to do justly, love mercy, and to walk humbly with Him (Micah 6:8).
E. God deserves our time (Ephesians 5:15-17).
F. We love God because He first loved us (1 John 4:19; John 14:15).
Give to each his due!
Give to those that are deserving of such. We have legal obligations to our government and must give our due there, but we have a greater responsibility to God. He created us; we must give to Him all glory and honor due Him! Are you giving God the glory? Start by recognizing, accepting and obeying His son.
---