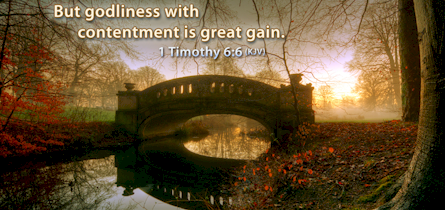 Podcast: Play in new window | Download
Text: 1 Timothy 6:6-10 (Reading by
Don Treadway
)
Godliness with Contentment is Great Gain
Godliness is always right, but it is not always easy to do the right thing.  Sometimes peer pressure can be difficult to overcome.  Other times, it may seem easier to do what's right if one has certain things, or if one does not have other things.  However, by doing what is right with what one has, one may be blessed and gain contentment.
Body
I. We must profess godliness.
A. Godliness means living a life that is respectful to God, and to oneself.
B. Earlier, Paul told Timothy that godliness is profitable for all things (1 Timothy 4:7-8).
C. God has given us all things that pertain to life and godliness (2 Peter 1:3).
D. Godliness is in accordance with truth (Titus 1:1).
E. Christians must live in "holy conduct and godliness" (2 Peter 3:11; 1 Peter 1:15-16).
F. We must add godliness to our faith (2 Peter 1:5-7).
G. We can expect persecution when living godly lives (2 Timothy 3:12).
H. We must withdraw from those that suppose godliness is a means of gain, yet pursue true godliness (1 Timothy 6:5,11).
II. We must be content.
A. Paul has learned to be content in every condition (Philippians 4:11-12; 1 Corinthians 4:11).
B. We must be content with such things as we have (Hebrews 13:5).
C. We need God's words more than necessary food (Job 23:12; Matthew 6:11).
D. God gives us all we need (Philippians 4:19; Psalm 23:1; Proverbs 30:7-9).
III. We have much to gain.
A. Godliness is profitable for this life, and the life that is to come (1 Timothy 4:8).
B. If a man gains the world and loses his soul, he loses everything; if he loses the world and gains his soul, he has gained everything (Matthew 16:26; Luke 12:20-21).
Conclusion
As Christians, we are to live Christ Jesus with Godliness.  In so doing, we must be content with who we are and what we have.  Being content and living godly lives in Christ, we have much to gain!
---
Podcast: Play in new window | Download
The Demise of Herod
Pride – The Downfall of Herod
"And whoever exalts himself will be humbled, and he who humbles himself will be exalted (Matthew 23:12)." These words by Jesus soon rang true of King Herod (Acts 12) and we can see this in Herod's demise.
Herod had been harassing some members of the Lord's church (Acts 12:1-4). He persecuted an apostle [James, the brother of John], and even put another apostle in prison [Peter].
As Peter was in prison, the church prayed for him. Then, Peter was soon freed from prison by the Lord's angel (Acts 12:5-17). This is an example of that shows "the effective, fervent prayer of a righteous man avails much (James 5:16)." Now, compare the Church with Herod; obviously one is more righteous than the other.
Herod became angry after he could not find Peter. He was even angry with the people of Tyre and Sidon. He later wore his royal apparel, and gave an oration to them. The people lifted him up and deemed him a god (Acts 12:18-22).
Give Glory to God
As a result of Herod being so elevated, the angel of the Lord struck him, and he died (Acts 12:23). The Psalmist wrote, "Not unto us, O LORD, not unto us, but to Your name give glory, because of Your mercy, because of Your truth (Psalm 115:1)."
There are still some today who love the praise of men more than the praise of God (John 12:42-43). This will cause them plenty of grief. Notice that Jesus did not receive honor from men, and condemned seeking honor from one another instead of from God (John 5:41, 44).
As Herod and his opposition faded away, God's word grew and multiplied (Acts 12:24). Likewise, we must be careful not oppose the word of God. In fact, doing so would be in vain. Instead, we must accept God's Word and work to spread the good news of the Gospel.
---