A hundred years from now what will others remember about us? Probably nothing! That is the truth unless we do something really noteworthy. Men come and go almost without notice. Only a few are remembered long after life has ended, even among the most successful. Perhaps I can illustrate my point.
Who was president a hundred years ago? Vice-president? Only a few get their 15 minutes of fame, and then they quickly fade from view. It may be that the famous are less remembered than the infamous. Genghis Kahn, Attila the Hun, Judas Iscariot, Adolph Hitler, and Joseph Stalin all come to mind. Even an apostle like Thomas is remembered, not for a life of service and devotion to the cause of New Testament Christianity, but for the doubts he expressed resurrection day. Thus, he became "Doubting Thomas". From what we know of Thomas, the following seems to have been true.
The cross was what Thomas expected; the resurrection was not! It was Thomas who said to his fellow apostles: "Let us go, that we may die with Him." (John 11:16). Thomas was the natural pessimist. If it could go wrong, he just knew it would.
Following the crucifixion, Thomas made the mistake of withdrawing to deal with his grief when what he really needed was the fellowship of brethren. He was absent when the others gathered in the upper room (John 20:24). (Did you ever stop to consider what you miss when you are absent when the church assembles?)
Thomas' great virtue was that when he was sure he went all the way! Seeing the resurrected Savior he exclaimed: "My Lord and my God" (John 20:28).
When it comes to Jesus there is no need to be a doubting Thomas. Our faith in Jesus Christ rests on the trustworthy testimony of eyewitnesses (2 Peter 1:16; 1 John 1:1-3). We can be confident that Jesus was the Christ, the Son of the living God (Matthew 16:16). I urge you to read the New Testament. You can have confidence in what you read, and ultimately, you will exclaim with Thomas, "My Lord and my God!"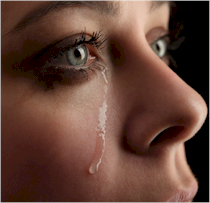 Until we all embrace God's laws and live by them, there will be cause to weep!
The Bible speaks of tears being shed on many occasions. David had cause to weep when he learned of the death of Absalom (2 Samuel 18:33). The captives sat by the rivers of Babylon and wept as they remembered Zion (Psalm 137:1). Jesus was moved to weep as He made his way to the tomb of his dear friend Lazarus (John 11:35). He wept again as He looked upon Jerusalem and foresaw her impending destruction (Luke 19:41).
As I read each of the accounts mentioned in the previous paragraph, as well as others like them, I am reminded of something from the Psalmist's pen. He wrote: "Rivers of waters run down mine eyes, because they keep not thy law" (Psalm 119:136). As I get older I understand more and more what the Psalmist meant, what caused him to weep.
Tears should come to our eyes and we should weep as we gaze upon the moral decline which has swept through our land. Long held standards of decency and morality have crumbled before us. A few decades ago the prospect of abortion on demand, the acceptance of homosexuality, the staggering rates of illegitimacy, and the brutal violence of today were unthinkable.
There is cause to weep when we see man's inhumanity to man and the staggering toll in human lives. In Africa and the Middle East, thousands have died and continue to die, innocent victims of man's brutality. Right here in our own country violence claims lives daily. Some see what is happening and blame God, but the fault is not His, it is ours!
The restraints of space will not permit a detailed listing of all the problems which fill our land and bring tears to our eyes. Now I simply must ask, "What is the real cause for our tears?" The Psalmist gives us the answer. It is because men do not keep God's law (Psalm 119:136)! What a different world it would be if only men would acknowledge God and honor His commands.
We may not be able to change the world, but we can change ourselves. We must adopt God's laws as our own, and live by them every day. Then, and only then, can we begin to make a difference in our community and the world. Until we all embrace God's laws and live by them, there will be cause to weep!
Text: Isaiah 43:2
God promises you will get through the waters of grief, the river of sorrow, the furnace of pain. Somehow you will get through. What you experience today will not last forever.
One encouragement here is God knows who you are. He is your Creator, and he calls you by name – Isaiah 43:1.
You are His, and He will take care of His own. In time of sorrow you feel unimportant and unknown. God knows you, and you are important to him.
God also knows where you are. He knows when you're fighting the current of the river of sorrow, when you're walking through the fiery furnace of suffering. Others may not know what you're experiencing. One the outside you may have everyone believing you're fine. But inside you're about to drown. God knows — and He is there for you.
When Daniel's three friends were thrown into the furance, the king watched – Daniel 3:22-26. And what he saw amazed him: the men were not harmed, and a fourth person was with them in the furnace.
God knows how you feel: alone, afraid, uncertain about the future, isolated, maybe rejected. God made you with your emotions, and he knows how they can overwhelm and control you. God will never condemn you for the way you feel. Tell him how it feels — He will listen.
God knows what you need. You need someone to share the pain, to walk through this long valley with you. He promises His presence. He also promises His love. God gave you His Son to conquer death and give hope.
Live on promises, not on explanations. Even if God explained by your loved one died, the answer wouldn't end the heartbreak or quench the questions. Instead of explanations, God gives promises, which keep you moving ahead, giving hope and new strength.
You'll get through your grief. It won't end today or next month. But there is an end. Just face today. Tomorrow will take care of itself. Don't burn today's energies on tomorrow's problems that aren't here yet.
When you pass through the waters, I will be with you; and through the rivers, they shall not overflow you. When you walk through the fire, you shall not be burned, nor shall the flame scorch you. – Isaiah 43:2