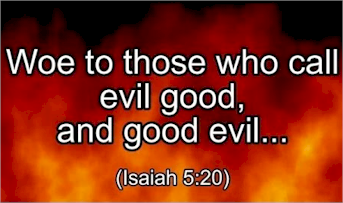 It May Be "Hip" To Call Evil Good, But God Says, "Woe Unto Them That Call Evil Good, And Good Evil"
In Isaiah 5:20, the prophet of the Lord pronounced "Woe unto them that call evil good, and good evil; that put darkness for light, and light for darkness; that put bitter for sweet, and sweet for bitter!" Lately, I find myself shaking my head more and more frequently at the news that comes from every corner of the United States. Things that once were universally considered evil, wicked and sinful seem no longer to be seen as such by the majority of the population. Things that were once universally considered good, wholesome, and right are now seen as hateful, oppressive and wrong by an increasing number of people. When I was young, I used to think that old people were irrational for grumbling about how bad things were, in society, when compared with how they used to be. Now, I find myself grumbling in exactly the same way. I guess it means that I'm getting old – but it also means that I'm finding out just how right my elders were in their assessment of the world.
In Isaiah's day, there were probably quite a few people who thought that he was just a grouchy old man who didn't know what he was talking about, but they ought to have been listening to him. He tried to warn the people of his generation about the error of their ways, calling evil good, and he pleaded with them to repent before it was eternally too late. But most of the people were bent upon doing what they wanted to do, and they paid no attention to the Lord's prophet. Jeremiah summed up the attitude of the people very well, "The prophets prophesy falsely, and the priests bear rule by their means; and my people love to have it so" (Jeremiah 5:31). We are living in a topsy-turvy world, and it seems that the people love to have it so.
Consider how society's attitude toward sin has changed. Sin has always been part of the human condition (Romans 3:23). But, in days gone by, people knew what sin is, and if they committed sin, they were not proud of what they had done, calling evil good. People used to feel ashamed of themselves, when they did something they knew they ought not to do, or failed to do something they ought to do (Hebrews 10:26-27; James 4:17). But, nowadays, people are proud of their sins, and because of their pride, they see no need to repent of their sins.
Ezra wrote about people who had a proper perspective on their own sins, "And said, O my God, I am ashamed and blush to lift up my face to thee, my God: for our iniquities are increased overour head, and our trespass is grown up unto the heavens" (Ezra 9:6). Jeremiah, on the other hand, wrote about people who are very much like modern Americans, "Were they ashamed when they had committed abomination? Nay, they were not at all ashamed, neither could they blush: therefore they shall fall among them that fall: in the time that I visit them they shall be cast down, saith the LORD" (Jeremiah 6:15).
Today, people are proud to be homosexual, fornicators, adulterers, and to commit all manner of abomination. The very notion of "Gay Pride" is an affront to all that is good and holy. But, if any Christian dares to oppose such a thing, he is called "bigot" and "intolerant" and "hateful." This is how the world calls evil good and good evil. It's enough to make many Christians want to give up the good fight of faith!
But, I want to encourage Christians to hold fast against the rising tide of the world's love for sin and hatred of righteousness. We can't be calling evil good and good evil. Paul said it best, when he wrote to Timothy, "Yea, and all that will live godly in Christ Jesus shall suffer persecution. But, evil men and seducers shall wax worse and worse, deceiving, and being deceived. But continue thou inthings which thou hast learned and hast been assured of, knowing of whom thou hast learned them; and that from a child thou has known the holy scriptures, which are able to make thee wise unto salvation through faith which is in Christ Jesus" (2 Timothy 3:12-15). Every new generation thinks that the world is only getting worse. From the stand-point of morality, maybe that is true, but the key to coping with the ascendancy of sin in the world is to build your personal faith (Hebrews 11:6).
Without a doubt, society is moving swiftly to transform what people think about sin and righteousness. Things that people once did not talk about, because they were sinful, are now graphically displayed on television and the internet. Preachers and teachers who tell people what the Bible says about sin are vilified, as hate-mongers who want to keep people from being happy. However, now is not the time to shrink from the challenge before us. We all must stand up and speak out for what is true and right, in every public forum. God has not given up on trying to save the world, and neither should we (2 Timothy 4:1-5)!