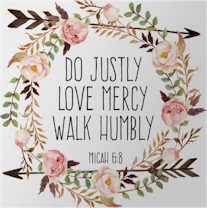 Podcast: Play in new window | Download
The Lord's Requirements:
We know that there are many things in this life that have worldly requirements we have to meet: name, birth certificate, education, previous work experience, and the like. Different people and situations may require different things of us. However, there are three requirements that the LORD has for our lives (Micah 6:8) that we must be diligent to meet in order to be pleasing to Him:
1. The Lord Requires Us To Do Justly.
a. The LORD knew that Abraham would teach his children and household after him to "do righteousness and justice (Genesis 18:19)."
b. Paul behaved himself "devoutly and justly and blamelessly" before the Thessalonians (1 Thessalonians 2:10).
c. We must think on whatever things are just (Philippians 4:8).
d. The just shall live by faith (Habakkuk 2:4; Romans 1:17; Galatians 3:11; Hebrews 10:38).
2. The Lord Requires Us To Love Mercy.
a. God has mercy on whom He wills (Romans 9:15,18; Exodus 33:19).
b. His mercies are not consumed; they are "new every morning (Lamentations 3:22-23)."
c. As He is merciful, so should we be merciful (Luke 6:36).
3. The Lord Requires Us To Walk Humbly With Him.
a. "Humble yourselves in the sight of the Lord, and He will lift you up (James 4:10)."
b. "Humble yourselves under the mighty hand of God, that He may exalt you in due time (1 Peter 5:6)."
c. "Whoever exalts himself will be humbled, and he who humbles himself will be exalted (Matthew 23:12)."
d. God resists the proud, but gives grace to the humble (James 4:6; 1 Peter 5:5; Proverbs 3:34).
Are We Meeting The LORD's Requirements?
If we are diligent to meet His requirements, we will receive the eternal reward that we so desire. We will be with The Lord!
Podcast: Play in new window | Download
A flea market is not a bad thing.
In fact, it can be fun to mix with people, eat some junk food (some people call it fair food) and shop for stuff you really don't need.  But should this be a higher priority than meeting to worship with the Lord's Church?
Sunday, September 16th, was a big Gahanna Flea Market.
The flea market was already booming as we passed through Gahanna at 9:00 Sunday morning and it made me sad to think all these people would come to a flea market instead of worshiping God.  Here are some pictures I took on the way home.



For the sake of stuff, many are entering the wide gate that leads to destruction – Matthew 7:13-14
Instead, their feet need to follow a different way, accepting direction from the Lord – Jeremiah 10:23-24
Only by giving stuff up and valuing the Lord will we be of value to the Lord.
When Jesus comes again, will we have valued Him as treasure? – Matthew 13:44
Will he find us just and find value in us?  Will he find us to be:
A Pearl of Great Price – Matthew 13:45-46
Good – Matthew 13:47-48
At the end of the world, the wicked will be severed from the just and cast away – Matthew 13:49-50
Will you be numbered with the wicked or the just?
Are you holding on to your stuff instead of to the Lord?
If you don't like your answer, now is the time to change – 2 Corinthians 6:2
Let us know if we can help you begin or improve your Christian walk…
We know very little about Joseph, the husband of Mary
One thing we do know is that he was a just man! Matthew wrote of the birth of Jesus: Now the birth of Jesus Christ was as follows: After His mother Mary was betrothed to Joseph, before they came together, she was found with child of the Holy Spirit. Then Joseph her husband, being a just man, and not wanting to make her a public example, was minded to put her away secretly. But while he thought about these things, behold, an angel of the Lord appeared unto him in a dream, saying, "Joseph, son of David, do not be afraid to take to you Mary your wife, for that which is conceived in her is of the Holy Spirit. And she will bring forth a son, and you shall call his name JESUS, for He will save His people from their sins." Now all this was done, that it might be fulfilled which was spoken by the Lord through the prophet, saying, "Behold, a virgin shall be with child, and bear a Son, and they shall call his name Immanuel," which is translated, "God with us." Then Joseph, being aroused from sleep, did as the angel of the Lord commanded him and took unto him his wife, and did not know her till she had brought forth her firstborn Son. And he called his name JESUS (Matthew 1:18-25).
He would not make a public example of Mary
This is a familiar passage to Bible students. There are many lessons to be drawn from the text, but our focus is on Joseph. When he learned that Mary was pregnant, his immediate response was to break off the engagement. He knew the child was not his, and at that moment he could think of only one possible explanation. Yet, being a just (honorable, righteous) man, he would not make a public example of Mary, but would privately break off the engagement.
Not vindictive
Unlike many today, Joseph was not vindictive. Nor did he plan to humiliate Mary. Just men do not behave that way. Fortunately, before he had opportunity to carry out his intentions, it was revealed to him that the child Mary carried was of the Holy Spirit. Joseph went through with the marriage. He raised Jesus as his own. It was a decision he never regretted.
We need more just men
Often, it is those with the greatest personal sins who are most intolerant of the sins of others. However, just men know when to publicly expose a sin and when to do deal with it privately. We need more just men like Joseph.
— Roger
FEBRUARY 5, 2012