Posts
Powered by GTranslate - multilingual website solutions.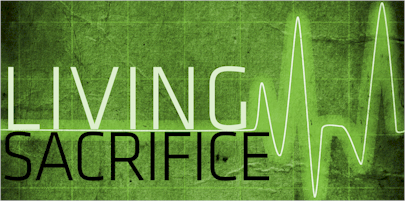 Podcast: Play in new window | Download
Text: Romans 12:1-2 (Reading by Andy Anderson)
You Are a Living Sacrifice
A sacrifice may be defined as something you give up in order to receive something better in return. When playing a board game, you might give up a piece in order to get a better piece or position in return. You may have to choose between two activities at the same time; something must be given up. When making a sacrifice to God, something must be given up of ourselves, a living sacrifice, in order to receive something greater from Him.
I. We must offer ourselves as a living sacrifice.
A. We are "living stones," offering up "spiritual sacrifices (1 Peter 2:4-5)."
B. To be a living sacrifice, one must be dead to sin but alive to God (Romans 6:11-13; Galatians 6:14).
C. Our body and spirit belong to God (1 Corinthians 6:20).
D. Christ lives in us (Galatians 2:20).
E. The church at Sardis was not alive; it was dead (Revelation 3:1-3).
II. We must offer holy sacrifices.
A. The book of Leviticus describes just how holy each sacrifice to God should be, and how holy the priests are to offer them.
B. Today, Christians are a "holy priesthood (1 Peter 2:5)."
C. We are to be holy…
1) …for God is holy (1 Peter 1:15-16).
2) …and without blemish (Ephesians 5:26-27).
3) …and without blame before Him in love (Ephesians 1:4-8).
D. We are to serve God "in holiness and righteousness before Him all the days of our life (Luke 1:75)."
E. John tells us, "he who is holy, let him be holy still (Revelation 22:11)" as we prepare for the Lord's coming.
III. Our sacrifices must be acceptable to God.
A. Abel offered a sacrifice acceptable to God, but Cain did not (Genesis 4:1-7).
B. Nadab and Abihu died before the LORD when they did not offer an acceptable sacrifice (Leviticus 10:1-3).
C. Abraham was willing to offer his son as an acceptable sacrifice to God (Genesis 22).
D. Today we are told what is acceptable to God through His Word (2 Timothy 3:16-17).
Conclusion
Jesus Christ offered Himself as the perfect living sacrifice! He lived, died, and lives again! He is holy, and always does what is acceptable to His Father. Following His example, we must transform ourselves into a living sacrifice. We must live for Him, be holy, and do what is acceptable unto Him. His will for us is good, acceptable, and perfect. We can prove it if we offer ourselves as the right kind of sacrifice.
Old
-
G
E
L
N
D
J
J
R
1S
2S
1K
2K
1C
2C
E
N
E
J
P
P
E
S
I
J
L
E
D
H
J
A
O
J
M
N
H
Z
H
Z
M
New
-
M
M
L
J
A
R
1C
2C
G
E
P
C
1Th
2Th
1T
2T
T
P
H
J
1P
2P
1J
2J
3J
J
R
-
Topical
-
All
-
Archive
Podcast: Play in new window | Download
(Presented at Willowbrook Christian Home on 8/19/2012)
Text: Ephesians 2:4-9
Introduction
Mercy
From God's Word, we recognize that mercy is the forbearance, compassion, kindness shown by God from inflicting punishment for those who break the law.
In John 8:1-11 the scribes and Pharisees brought a woman to Jesus taken in the act of adultery, and ask Jesus what would he do in light of the law of Moses. He asked a question that convicted them of their own sins and the woman was left uncondemned. Jesus said go and sin no more.
Through God's mercy we are saved – 1 Peter 1:3-5
Grace
A companion of mercy is grace.
Grace means that which causes joy, pleasure, delight, charm, sweetness, and loveliness. This has come to signify the kindness of God toward man.
God's unmerited favor saves mankind by providing a sufficient and perfect sacrifice to remit the sins of man, so that he can be reconciled to his God.
The Oracles of God declare we are saved by God's grace through faith – Ephesians 2:4-8
It (grace) has appeared unto all men – Titus 2:11
 The Benefits of God's Grace are Accessed Through Faith
Through Faith
If you want to enjoy the benefits of the grace of God, such as eternal life with God, love, joy, and peace, you must access them through faith in God – Ephesians 2:8; Romans 5:1-2
Dead or Living?
The question you must ask yourself is your faith dead or alive?
A dead faith merely believes, but does not produce obedience to God.  James 2:14-17 describes faith without works as dead. But a living faith is characterized by loving obedient actions towards God – James 1:22-25.
Living Faith
You can only benefit from the grace of God when you decide to be faithful and obedient to Him and live for Him – Hebrews 4:1-2
Plan of Salvation
Hear the Word of God – Romans 10:17; Hebrews 3:15
Believe in Jesus Christ – Hebrews 11:6
Repent of past Sins – Luke 13:3
Confess Jesus is the Son of God – Romans 10:9-10
Baptized for the forgiveness of your Sins – Acts 2:38
Daily Live Faithful for Jesus – Revelation 2:10
What Are You Doing with God's Grace?