"Precious father, loving mother, fly across the lonely years; and old home scenes of my childhood, in fond memory appear. Precious memories, how they linger, how they ever flood my soul; in the stillness of the midnight, precious, sacred scenes unfold."
Some of the fondest memories of life are those cherished recollections of a saintly mother and her loving care. We never forget the surprise parties, the cookies only she could make, and the gentle hugs and kisses that made every hurt go away. Mothers are special, irreplaceable people. They deserve to be honored.
As youngsters we understood how special they were. We proudly presented them with the first flowers of spring, showered them with kisses, and bestowed upon them special love and honor. But, have we continued the practice?
Let's not forget that they still need and deserve to be treated in a special way. Solomon wrote: "Despise not thy mother when she is old" (Proverbs 23:22). The debt we owe cannot be repaid. Flowers, cards, calls and visits need to be frequent. One day is not enough! People of all ages need to know that they are loved, but especially mothers.
Jesus taught a powerful lesson from the cross as he looked down to see his mother staring up. To her he said, "Woman (a term of honor and respect), behold thy son," Then turning to his trusted disciple, John, he said, "Behold thy mother" (John 19:26, 27). In the darkest hour of his life, his love for his mother was apparent. His heart went out to her.
Is His example not worthy of imitation? Make all the memories precious. Make every day Mother's Day! It's still not too late to start.
Home as God Designed It
Husbands and Fathers - Wives and Mothers - Children
---
Wives and Mothers
The woman's role in the home, as wife and mother, is frequently maligned in our society, to the detriment of families everywhere. Many regard a woman's life to be wasted, if she foregoes a career, in order to raise her children and attend to her family. While a woman has every right to pursue her ambitions and leave her proverbial mark on the world, it must be recognized that there is nothing wrong with a woman who wants to devote her life to being a wife and mother. Some may argue otherwise, but the woman's role in the home is of paramount importance.
The Bible says that the woman is the "keeper" of the home (Titus 2:4-5). This denotes the idea of her making the home a safe haven from the world for her husband and children. In this way, she is her husband's "helper" (Genesis 2:18-25). It is her responsibility to follow his Godly leadership and to support him, as he watches out for the best interests of the family. Also, she is responsible for keeping her family on the right spiritual path (2 Timothy 1:5). If her husband will not lead the family in the right direction, she must do so, herself (1 Peter 3:1-4).
The Bible does not say that Christian women have no choice about how they may live their lives. In the Bible, we read about Godly women who had careers (like Lydia; Acts 16:14,15). Also, we read about Godly women who devoted their lives to serving others (like Dorcas; Acts 9:36-41). The point is that a Christian woman can be whatever she wants, as long as she does not neglect her duties as wife and mother. When a woman chooses to get married and have children, she takes up a mantle of responsibility that she cannot put down. She must take her commitment seriously.
"Nevertheless let every one of you in particular so love his wife even as himself; and the wife see that she reverence her husband." —Ephesians 5:33
---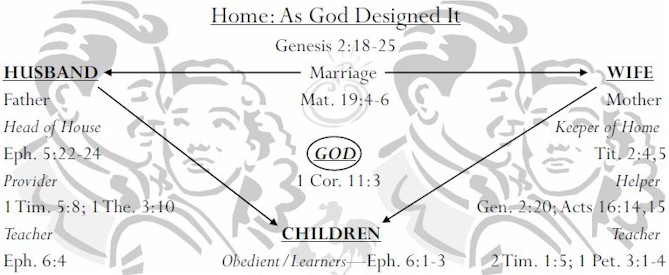 Is God Part of Your Family?
Families everywhere are in crisis. The integrity of what was once considered an "average" family (husband/father with wife/mother and children all living together in one house) is under assault from numerous adversaries. Many have given up on the ideals of marriage and family life, in favor of modern sensibilities. But, we don't have to settle for anything less than the Biblical model of what "home" is all about. If you want a truly Christian home, then the first thing you need to do is make God part of your family. This happens when families make God's Word the central focus of their lives. When the Bible is read in the home, obeyed in the home, and reverenced in the home, then the home will be as God designed it. The problem with modern families is that they are not based on God's design for the home. Let's all dedicate ourselves to making God part of our families. Our lives will be better for having made the effort.
Old
-
G
E
L
N
D
J
J
R
1S
2S
1K
2K
1C
2C
E
N
E
J
P
P
E
S
I
J
L
E
D
H
J
A
O
J
M
N
H
Z
H
Z
M
New
-
M
M
L
J
A
R
1C
2C
G
E
P
C
1Th
2Th
1T
2T
T
P
H
J
1P
2P
1J
2J
3J
J
R
-
Topical
-
All
-
Archive
Introduction
1. As Christians, we are privileged to be members of God's family…
a. With God as our Father in heaven
b. With Christ as our Elder Brother
c. With many fathers and mothers, sons and daughters, brothers and sisters – cf. Mark 10:29-30
2. Even so, we also have duties as members of our human families…
a. As husbands and wives
b. As parents and children
c. As married and single
[What impact should our faith as Christians have on our physical families? What are our responsibilities as Christians who are blessed with familial relationships? Consider first…]
Body
I. THE CHRISTIAN AS HUSBAND AND FATHER
A. DUTIES OF THE HUSBAND…
1. Husbands are to love their wives – Ephesians 5:25-29
a. As Christ loved the church and gave Himself for her
b. As their own bodies, nourishing and cherishing them
2. Husbands are to leave mother and father – Ephesians 5:31
a. Leaving parents to be joined to one's wife
b. The husband therefore gives his wife priority over his parents
3. Husbands are not to be bitter toward their wives – Colossians 3:19
a. "do not be harsh with them" – Colossians 3:19 ESV
b. "never treat them harshly" – Colossians 3:19 NRSV
4. Husbands are to be understanding and give honor to their wives – 1 Peter 3:7
a. Understanding their delicate nature
b. Honoring them as heirs together of the grace of life
B. DUTIES OF THE FATHER…
1. To provide the necessities of life – 2 Corinthians 12:14; 1 Timothy 5:8
a. Parents ought to provide for their children
b. A man who fails to do so is worse than an infidel
2. Not to provoke the children to wrath – Ephesians 6:4; Colossians 3:21
a. That is, by unreasonable commands; by needless severity; by the manifestation of anger
b. Lest, by your continually finding fault with them, they should lose all courage, and despair of ever pleasing you
3. To provide for spiritual training of the children – Ephesians 6:4
a. Bringing them up in the training (discipline, Ephesians 6:4 ESV) of the Lord
b. Bringing them up in the admonition (instruction, Ephesians 6:4 ESV) of the Lord
4. To provide loving discipline as necessary – Hebrews 12:6-11; Proverbs 13:24
a. Even as our Heavenly Father disciplines His children
b. Though it may be unpleasant at the moment
[Such are familial responsibilities of Christian men as husbands and fathers. Now let's consider…]
II. THE CHRISTIAN AS WIFE AND MOTHER
A. DUTIES OF THE WIFE…
1. Wives are to submit to their husbands – Ephesians 5:22-24; Colossians 3:18; 1 Peter 3:1-2
a. As to the Lord, as is fitting in the Lord
b. In everything, as the church is subject to Christ
2. Wives are to respect and love their husbands – Ephesians 5:33; Titus 2:4
a. Not just to submit, but to do so with respect and love for their husbands
b. Which older women should teach the younger women
B. DUTIES OF THE MOTHER…
1. To love their children – Titus 2:4
a. Which ought to be natural
b. Yet sin can lead to a lack of proper affection – cf. Romans 1:31
2. To manage the household – Titus 2:5; 1 Timothy 5:14
a. The primary responsibility of the wife and mother
b. Though a woman may also engage in activities outside the home – cf. Proverbs 31:10-31
3. To provide spiritual training when male leadership is lacking – 2 Timothy 1:5; cf. Acts 16:1
a. Timothy's mother and grandmother were believers
b. Evidently his father was not, which is too often the case today
[Such are the duties of Christian women as wives and mothers. Next let's take a look at…]
III. THE CHRISTIAN AS CHILD AND SINGLE
A. DUTIES OF CHILDREN…
1. To obey their parents – Ephesians 6:1; Colossians 3:20
a. In the Lord, for this is right
b. In all things, for this is well pleasing to the Lord
2. To honor their parents – Ephesians 6:2-3
a. The first commandment with promise – cf. Exodus 20:12
b. By providing for their welfare in later years – cf. 1 Timothy 5:4, 8, 16
B. DUTIES OF THE SINGLE CHRISTIAN…
1. To utilize the advantage of being single – 1 Corinthians 7:32-35
a. Use your freedom to increase your service to God
b. Don't be selfish with the extra time and freedom you have
c. Don't begrudge others who may not do as much as you because of their other responsibilities (e.g., children, spouse)
2. To watch out for the dangers of being single – cf. Ecclesiastes 4:9-11
a. Temptation – make an effort to develop a close relationship with the Lord
b. Loneliness – accept invitations to be with others, initiate opportunities to be with others
c. Self-centeredness – offer yourself in service to others; be flexible
3. To remember that you are in the family of God – Mark 10:29-30
a. You have many mothers, fathers, brothers, sisters, children
b. Make the effort to develop and utilize these relationships
[Finally, some remarks regarding discipleship as it relates to our familial relationships…]
IV. THE CHRISTIAN AS DISCIPLE
A. PUTTING THE LORD BEFORE THE FAMILY…
1. Of course, we are to love our parents, spouses and children
2. Yet our love for the Lord must come first – Matthew 10:34-37; 12: 46-50
a. Otherwise we are not worthy to be called His disciple
b. Only then will Jesus view us as members of His family
3. By putting God and His kingdom first, our families will benefit more – cf. Matthew 6:33
a. God's providence will help provide for our families' needs
b. We will also be better parents, spouses and children by following Jesus
B. PRESENTING THE LORD TO THE FAMILY…
1. By way of example – cf. 1 Peter 3:1-2
a. So wives were to influence their unbelieving husbands
b. So we can influence other unbelieving members of the family
2. By way of instruction – cf. Ephesians 6:4
a. So fathers were to instruct their children
b. So we can teach other members of the family
Conclusion
1. The nuclear family is a wonderful blessing, intended by God to consist of…
a. Husbands and wives who love and respect one another
b. Parents who love and discipline their children
c. Children who honor and obey their parents
2. As Christians, our familial duties are clear…
a. Whether as husbands or wives
b. Whether as parents or children
c. Whether as married or single
3. May our faith in Christ lead us to be the best spouses and parents, the best children and singles, we can possibly be