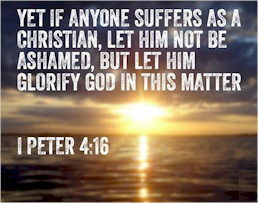 Don't be ashamed of being a Christian.
Christianity is under assault. Prayer has been banned from the classroom. Religious symbols have been prohibited on public property. The Ten Commandments have been removed from public display. Christians are regularly maligned. Michael Weisskopf wrote in the Washington Post that conservative Christians are "largely poor, uneducated and easy to command." The world is trying to make us ashamed of Christianity.
What should be the Christian response to these attacks on our faith? Jesus said: "You have heard that it was said, 'You shall love your neighbor and hate your enemy.' But I say to you, love your enemies, bless those who curse you, do good to those who hate you, and pray for those who spitefully use you and persecute you, that you may be sons of your Father in heaven; for He makes His sun rise on the evil and on the good, and sends rain on the just and on the unjust. For if you love those who love you, what rewards have you? Do not even the tax collectors do the same? And if you greet your brethren only, what do you do more than others? Do not even the tax collectors do so? Therefore you shall be perfect, just as your Father in heaven is perfect" (Matthew 5:43-48).
That Christianity is under assault comes as no surprise to Bible students. Jesus warned His disciples of the cost of discipleship on more than one occasion (Matthew 10:16-39; Luke 14:26-33). The real test of discipleship is our willingness to let our lights shine in the face of adversity and persecution. It's not hard to be a Christian when life is easy and burdens are light. The challenge is to live our faith in the face of ridicule and persecution without being ashamed. The enemies of Christ have no defense against the power of an upright life and a committed faith.
Take comfort in the words of Peter: "If you are reproached for the name of Christ, blessed are you, for the Spirit of glory and of God rests upon you. On their part He is blasphemed, but on your part He is glorified. But let none of you suffer as a murderer, a thief, an evildoer, or as a busybody in other people's matters. Yet if anyone suffers as a Christian, let him not be ashamed, but let him glorify God in this matter" (1 Peter 4:14-16).
Old
-
G
E
L
N
D
J
J
R
1S
2S
1K
2K
1C
2C
E
N
E
J
P
P
E
S
I
J
L
E
D
H
J
A
O
J
M
N
H
Z
H
Z
M
New
-
M
M
L
J
A
R
1C
2C
G
E
P
C
1Th
2Th
1T
2T
T
P
H
J
1P
2P
1J
2J
3J
J
R
-
Topical
-
All
-
Archive
Podcast: Play in new window | Download
Text: James 5:7-12
Introduction
1. Do you feel like someone is out to get you? That they are trying to take advantage of you? That you are being oppressed?
2. What should you do when you are oppressed? What should you NOT do?
3. In James 5, we find James giving instructions to those who are being oppressed
a The rich had been holding back their wages – James 5:4
b. The rich had been oppressing the righteous – James 5:6
c. What were the oppressed Christians to do?
4. In James 5:7-12 (And surrounding verses), we find principles and instructions which help us to see what Christians should do when they are oppressed
Body
I. DON'T RESIST
A. SUCH WAS THE BEHAVIOR OF THOSE BEING OPPRESSED IN JAMES' DAY
1. Notice James 5:4-6
2. Though treated unjustly, they did not resist
B. NOT RESISTING IS CONSISTENT WITH THE TEACHING OF CHRIST AND HIS APOSTLES
1. Consider Luke 6:27-30
2. Also Romans 12:19-21
3. And 1 Peter 2:18-23
C. ADMITTEDLY, NOT RESISTING IS CONTRARY TO HUMAN NATURE AND WISDOM
1. Human nature moves one to react in "justifiable anger"
2. Human wisdom calls for "standing up for one's rights"
D. BUT NOT RESISTING IS BASED UPON TWO THINGS
1. AN AWARENESS that the Lord is coming to judge – James 5:8-9
a. But it may also refer to the Lord's final coming on the Day of Judgment which has yet to occur
b. Likewise, we can look for the coming of the Lord in judgment at our death
2. A WILLINGNESS to let Him be our avenger – Luke 18:7-8
II. BE PATIENT
A. THE WORD FOUND HERE IS SLIGHTLY DIFFERENT THAN THAT FOUND EARLIER IN THIS EPISTLE
1. In James 1:3, the word is "hupomone"
a. Which means to bear up under trials
b. Which normally means to be patient in reference to THINGS or CIRCUMSTANCES
2. In James 5:7-8, 10, the word is "makrothumia"
a. Which means to suffer long
b. Which normally means to be patient in reference to PEOPLE
B. THREE EXAMPLES ARE GIVEN TO ENCOURAGE US TO BE PATIENT
1. The FARMER – James 5:7
2. The PROPHETS – James 5:10
3. JOB – James 5:11
C. EACH OF THESE EXAMPLES TEACHES US:
1. To place our trust in the Lord, that He will eventually reward us for our trust in Him
2. To be steadfast, in the meantime, in our service to Him
III. ESTABLISH YOUR HEARTS
A. THE WORD "ESTABLISH"
1. Means "to fix, make fast, to set" – James 5:8
2. Is translated "strengthen" in other places
3. To establish one's heart, then
a. Involves strengthening our heart in a certain way
b. Here, it means to strengthen our heart so as to be patient and not resist the evil being done
B. THE "KEY" TO ESTABLISHING OUR HEARTS
1. Is the Word of God – 2 Peter 1:12
2. Through constant and careful study of God's Word
a. Our faith in God and His eventual justice is made stronger
b. Patience and strength to not resist is developed – Romans 15:4
IV. DON'T GRUMBLE
A. ESPECIALLY AGAINST ONE ANOTHER (9)
1. When others oppress us, we are likely to vent our frustrations as those closest and dearest to us
2. For example, a man after a bad day at work often takes it out on his wife and family
3. So brethren are likely to direct their frustration towards each other when being oppressed from outside
B. WE HAVE GOOD REASON NOT TO GRUMBLE
1. "lest you be condemned"
2. The sin of grumbling is a serious one – 1 Corinthians 10:5-11
3. The same Lord who will judge those who oppress others will judge those who murmer and grumble!
V. DON'T SWEAR
A. THIS IS SOMETHING ELSE ONE IS LIKELY TO DO WHEN IN TROUBLE
1. In other words, make rash promises
2. Promises which God will hold you to, even if not serious – Ecclesiastes 5:1-7
B. THIS PROHIBITION APPLIES ESPECIALLY TO "FLIPPANT OATHS"
1. In Jesus' day, many Jews were prone to swear in this fashion
2. Where they made a distinction between oaths using God's name and other oaths (Those using His name were considered binding, while the others were not)
3. Both Jesus and James condemn this distinction between different kinds of oaths – Matthew 5:33-37; 23:16-22
VI. PRAY
A. THIS IS THE KEY THING TO DO WHEN OPPRESSED
1. As we learn from James 5:13
2. This is what the Christians of James' day were doing – James 5:4
B. WHEN WE PRAY, GOD HEARS!
1. As seen in James 5:4
2. As promised by both Jesus and James, the Lord will avenge His righteous ones – Luke 18:7-8; James 5:7-8
3. It may not come when we want it, and the Lord may "bear long with us" – Revelation 6:9-11
4. But when the time is ripe, the oppressed will be avenged!
Conclusion
1. Therefore, when we are being oppressed
a. Don't resist
b. Be patient
c. Establish your hearts
d. Don't grumble
e. Don't swear
f. PRAY!
2. When we react this way to oppression
a. We follow the example of Christ and the early disciples
b. Who committed themselves to God who judges righteously
1) Christ – 1 Peter 2:23
2) The disciples – 1 Peter 4:19
3. With such a righteous God on our side, it should be a lot easier to endure those who oppress us!
4. Is the righteous God on your side? Or rather, are you on His side?