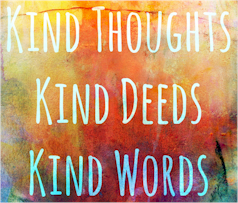 Podcast: Play in new window | Download
Text: Proverbs 12:5-6:  "The thoughts of the righteous are right, but the counsels of the wicked are deceitful. The words of the wicked are, "Lie in wait for blood," but the mouth of the upright will deliver them."
Thoughts are revealed, not hidden. Are they righteous or wicked?
Sometimes we think before we speak (or so we should); other times words just roll off of our tongues.  Based upon what we say, others can tell if we are righteous or wicked. See where your words fall and what they reveal of the thoughts that in your mind.
I. What are the thoughts of the righteous (Philippians 4:8)?
A. Whatever things are true
B. Whatever things are noble
C. Whatever things are just
D. Whatever things are pure
E. Whatever things are lovely
F. Whatever things are of good report
II. What are the counsels of the wicked?
A. Every thought of man's heart was only evil continually (Genesis 6:5).
B. The imagination of his heart was evil from his youth (Genesis 8:21).
C. They lie in wait to shed blood, lurking secretly for the innocent without a cause (Proverbs 1:10-11).
III. What are the words of the wicked?
A. "Lie in wait for blood (Proverbs 12:6)."
B. The LORD hates hands that have shed innocent blood (Proverbs 6:16-19).
IV. What does the mouth of the upright do?
A. It delivers them (Proverbs 12:6).
B. Jesus prayed, "And do not lead us into temptation, but deliver us from the evil one (Matthew 6:13)."
Wicked individuals think wicked thoughts and say wicked things, leading to wicked actions. Righteous individuals think good thoughts, say good things, and do good deeds. The wicked will enter eternal destruction (Revelation 21:8), while the righteous will enter into eternal life (Matthew 25:46).
What are we thinking, saying, and doing? Where will we spend eternity? Is change needed? Start by aligning your thoughts with God's Word, then accept His salvation.
---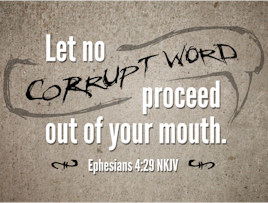 Your Thoughts and Words are Important
It is advisable to "think before you speak."  Many times things have been said without forethought, causing ill will between parties.  However, if we just stop for a moment before speaking, we would bring our thoughts and words under control and "let no corrupt word proceed out of our mouths, but what is good for necessary edification, that it may impart grace to the hearers (Ephesians 4:29)." Thoughts and words will show. If we think good thoughts, good words should follow.
Evil Thoughts and Words Destroyed Them
The wise man wrote, "The thoughts of the wicked are an abomination to the LORD, but the words of the pure are pleasant (Proverbs 15:26)."  A good example of thoughts and words comes from the world in the days of Noah. Every intent of man's heart was only evil continually (Genesis 6:5), and God destroyed them from the earth.  Yes, a heart that devises wicked plans is hated by the LORD (Proverbs 6:16-18).
The Bible is God's Thoughts and Words
On the other hand, good thoughts produce good words! David wrote, "The mouth of the righteous speaks wisdom, and his tongue talks of justice (Psalm 37:30)." Those who seek to follow God and study His word know what to say.  God knows all, and tells us all we need to know through His word.  By studying it, we learn that justice will be served at the end of time; those who are faithful to Him enter into life, while those who are not enter into damnation.
Happy Thoughts and Good Words
Let us dwell on happy thoughts, and speak words of comfort to a lost world.  Through Jesus Christ, there is hope of eternal salvation!
Old
-
G
E
L
N
D
J
J
R
1S
2S
1K
2K
1C
2C
E
N
E
J
P
P
E
S
I
J
L
E
D
H
J
A
O
J
M
N
H
Z
H
Z
M
New
-
M
M
L
J
A
R
1C
2C
G
E
P
C
1Th
2Th
1T
2T
T
P
H
J
1P
2P
1J
2J
3J
J
R
-
Topical
-
All
-
Archive
Text: 1 Chronicles 28:6-10
Introduction
1. Near the end of his life, King David gave a solemn charge to his son Solomon
a. Pertaining to the building of the temple – 1 Chronicles 28:1-10
b. Of particular note are David's words in 1 Chronicles 28:9
2. David's charge included three things in 1 Chronicles 28:9
a. Solomon's duty toward God
b. Motivation for Solomon to fulfill his duty
c. Promises regarding whether or not Solomon fulfilled his duty
3. What David charged Solomon in 1 Chronicles 28:9 has application for us today, in regards to our service to God.
Body
I. OUR DUTY
A. TO KNOW GOD
1. David tells Solomon to "…know the God of your father"
2. Nothing is more important in life than to truly know God – Jeremiah 9:23-24
3. God is displeased when people do not know Him
a. As was the case in Hosea's day – Hosea 4:1-6
b. As was the case in Paul's day – Romans 1:18-28 (READ)
4. Yet God has made Himself known
a. Through creation – Psalms 19:1-3
b. Through revelation, and the sending of His Son – Hebrews 1:1-2
5. Have we made a serious effort to know God?
B. TO SERVE GOD
1. With a loyal heart (1 Chronicles 28:9 NKJV)
a. With a whole heart (1 Chronicles 28:9 NASB, 1 Chronicles 28:9 ESV)
b. With wholehearted devotion (1 Chronicles 28:9 NIV)
c. What Jesus described as the greatest commandment – Matthew 22:36-38
2. With a willing mind (1 Chronicles 28:9 NKJV)
a. "cordially and sincerely, cheerfully and freely," – Gill
b. "neither in an hypocritical manner, nor through force and constraint, nor with loathing and weariness" – ibid.
3. This is the kind of service God expects today
a. Of all Christians in their giving – 2 Corinthians 9:7
b. Of elders in their shepherding – 1 Peter 5:1-2
4. Are we committed to serving God completely and willingly?
5. To know God and serve Him with sincerity and zeal, such is our duty!
II. OUR MOTIVATION
A. GOD SEARCHES THE HEARTS
1. David tells Solomon "…for the Lord searches all hearts" – 1 Chronicles 28:9
2. Solomon later confesses "…You alone know the hearts of all the sons of men" – 1 Kings 8:39
3. Today it is still the same
a. Jesus knew the hearts of men during His earthly ministry – John 2:24-25
b. Jesus continues to search the minds and hearts of all – Revelation 2:23b
c. There is no way we can hide our hearts from God – Hebrews 4:12-13
4. Since we cannot hide, why not serve Him willingly?
B. GOD UNDERSTANDS THE INTENTS
1. The Lord "is a discerner of the thoughts and intents of the heart" – Hebrews 4:12
2. He "judges the thoughts and attitudes of the heart."  – Hebrews 4:12 NIV
3. "not only the thoughts of the heart, when regularly formed and ranged in order, but even the very beginning of them, the first motions of the mind, and before they are well formed" – Gill
4. There is no way that we can hide our motives from God!
5. Reinforcing our motivation to know God and serve Him with a loyal heart and willing mind, is the two-sided promise found in David's Charge To Solomon
III. OUR PROMISE
A. IF WE SEEK HIM
1. He will be found by us – 2 Chronicles 15:2b
2. For the Lord is seeking those whose heart is loyal to Him – 2 Chronicles 16:9a
3. The key is to seek Him with all our heart – James 4:8-10
4. Are we making a diligent effort to find God, to learn and do His will?
B. IF WE FORSAKE HIM
1. He will cast us off forever – Isaiah 1:28
2. Even as the Lord promised to do to Israel – 1 Kings 9:6-9
3. Even as Jesus warned His disciples if they did not bear fruit – John 15:1-2
3. How sad and terrible to go through life and death without God at our side!
Conclusion
1. How much better to go through life and face death with God! – Isaiah 41:10
2. Just as David later encouraged Solomon – 1 Chronicles 28:20
3. If we want the encouraging promise spoken of by David, accept the duty spoken of by David!